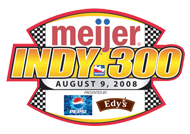 The television ratings for the Indy Racing League race at Kentucky Speedway continue downward. The have been cut in half since 2006.
This year, the Nielsen overnight rating for Saturday's race was .43, meaning about 480,000 U.S. households watched the race won by Scott Dixon. The race aired at the same time and on the same channel—ESPN2—as the 2007 Kentucky race, which earned a .6 rating. The 2006 Kentucky race earned a .8 rating. Going up against the Olympics this year, likely contributed to the lower rating.
Kentucky Speedway officials scurried around Saturday morning putting up 2,000 extra seats in anticipation of a sellout. But when the green flag dropped on the main event that evening, it looked like the permanent stands—which seat 66,000—were only about 75 percent full. The camping area, however, was filled with recreational vehicles, and there were quite a few people standing out of their seats along the top of the stands. Security personnel at the race, though, said the race was short of a sellout.