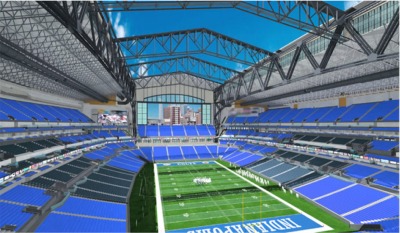 One week from today, most of the Indianapolis Colts players will get their first look inside the new 63,000-seat Lucas Oil Stadium. Players will be checking out the field surface, lighting and other elements that might affect depth perception and the field of play inside their new home. Colts players, coaches and front office brass have another concern. Will Lucas Oil Stadium be as loud as the RCA Dome?
"I'd be lying if I said I wasn't concerned about that," said Pete Ward, Colts senior executive vice president. "It may be difficult to match the loudness of the RCA Dome, especially when the roof on the new stadium is open."
The noise level in the RCA Dome has been off the charts in recent years. The support fuels the Colts and makes it difficult for opposing offenses to call plays. Several teams have complained about the ruckus, even accusing the Colts of piping in crowd noise.
Colts officials and project architects kept the noise factor in mind when designing and building the new stadium. There's lots of steel in the roof structure "That's always a good thing in terms of crowd noise," Ward said.
The stadium's ability to seat about 8,000 more than the RCA Dome will also help ratchet up the noise. But there's one other thing that Ward calls the Colts' "secret weapon." Contractors installed aluminum decking under thousands of retractable seats in the lower bowl. "That's a natural foot stomper," Ward said. "We feel like that will turn into a real rumble zone. And in the new stadium, the seats are much closer to the field, so we think it will be plenty loud. But the truth is, we won't know what the environment inside the new stadium will be like until we play there. Ultimately, it's up to the fans. We're counting on them."
The Colts first game in Lucas Oil Stadium is Sept. 7 against the Chicago Bears.