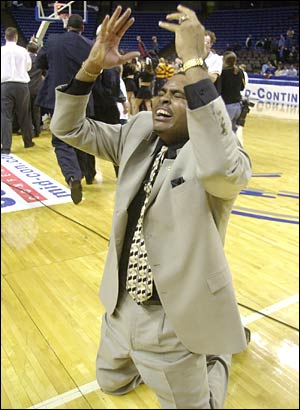 IUPUI men's basketball coach Ron Hunter has been criticized for being over emotional and too demonstrative during games. Some Div. I athletic directors and basketball coaches have told me that trait has held back the affable Jaguars coach from landing another—bigger—job. Outside of Cleveland State calling a couple years ago, Hunter hasn't gotten much of a sniff. This snub comes despite Hunter's ability to put together a solid program in the shadows of Indiana, Purdue and Notre Dame, not to mention Butler. Last year, the Jags were 26-7, playing out of a gym most high schools would consider unacceptable.
I don't profess to know how a basketball coach is supposed to act during a game. I can tell you that after watching an IUPUI game or two, Hunter certainly is animated on the sidelines. But I disagree that his actions are mere theatrics. Far from it.
I don't know Hunter well. In fact, I've only spoken to him once. But over the last month, I've learned a lot about the man. As a journalist, I am paid to think critically and measure things with a skeptical eye. Last season, when Hunter emerged to coach a game barefooted, I admit I thought it looked a lot like a publicity stunt. And it worked, landing Hunter and IUPUI in the local and national media spotlight.
Then Hunter did something that blew me away. While the Hoosier nation was gnashing its teeth over Sampson-gate and new coach Tom Crean was bemoaning school-imposed recruiting restrictions—and the rest of the world was focused on the Beijing Olympics, Hunter packed up boxes containing 3,000 pairs of shoes and headed for Peru. He pulled three of his players out of summer workouts and himself and his assistant coaches off the recruiting trail to serve the poorest of the poor. For 12 days, they washed kids' feet. They gave them shoes. They prayed with Peruvian children with few opportunities for advancement and even less reason to have any hope. They wiped their own tears away even as the Peruvians inexplicably smiled from ear to ear.
The trip itself gained little media attention. Hunter's team gained no on-court advantage for next season. And none of that seemed to matter.
"I took my players completely out of their comfort zone, to places they didn't know, to do things they didn't understand and they were incredible," Hunter told ESPN.com. "I wish every coach in America could experience this with his players. I know there are coaches who win national championships, who go to Final Fours. If you told me I had to exchange this experience with my players for a Final Four, I'd say keep your Final Four. This will stay with me far longer."
Ron Hunter may be theatrical. But in my book, he's no actor. And IUPUI should be happy to have him.