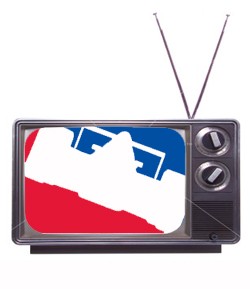 The Nielsen Media Research numbers showed that 349,000 TV households nationwide tuned in to Indianapolis 500 qualifications bump day on Sunday afternoon (May 17) on Versus cable channel. On Saturday (May 16), 285,000 TV households nationally tuned in to Indy 500 qualifications.
That compares to 385,000 TV households that tuned in to Pole Day qualifications on May 9. The Indy 500 qualifications TV ratings have outshined two of the first three Indy Racing League races in terms of viewer numbers. The season opener at St. Petersburg was watched by 233,000 households nationwide, while 171,000 TV households tuned into the Kansas race. Only Long Beach (388,864) fared better than the Indy 500 qualifications shows.
In Indianapolis, the second weekend of qualifications earned solid ratings, with a 2.33 rating being tabulated for Saturday's (May 16) telecast, and a 2.48 registered for Sunday (May 17). In the Indianapolis metro area, each rating point equals 10,720 households, which means about 24,978 tuned in on Saturday and 26,586 watched Sunday.
"That's not all that bad. It's not a gangbuster rating. A good basketball game would get a 6.0 or even an 8.0," said Bill Perkins, a longtime Indianapolis media buyer and president of Perkins Nichols Media. "But for the second weekend of qualifications on cable, that's not bad at all."
The open-wheel events at the Brickyard are still proving to be a solid attraction for the central Indiana market. The second weekend of qualifications for the Indianapolis 500 scored a better TV rating locally than two of three network sports shows on Sunday afternoon. The Rockets-Lakers NBA playoff game on ABC scored a 5.2 rating, the Texas Open PGA tournament registered a 1.7 on CBS and the National Hockey League playoff game on NBC notched a 1.3 rating.
Perkins said the numbers are even better when considering overall TV viewership numbers.
"Everything in the May book is down 10 percent," Perkins said. "All of television is down."