Switzerland-based Tag Heuer has become the official watch of the IndyCar Series and Indianapolis Motor Speedway.

Financial details of the deal were not released. A sports marketing expert thinks the agreement is likely a three-year deal that pays the series and Speedway about $300,000 annually. The marketing boost the open-wheel series and IMS get from the deal may be worth a lot more than that.

The deal—which was announced Aug. 6—includes naming-rights for the Tag Heuer Pit Stop Challenge, held annually each May on Carb Day the Friday before the Indianapolis 500.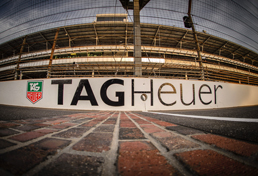 Also as part of the deal, Tag Heuer will have signage and displays at the Speedway, including a banner on the wall by the famous yard of bricks at the start/finish line. This marks the first time in the fabled track's long history that a sign has been hung on the outside wall at the start/finish line.
A Tag Heuer print campaign noting the brand's involvement in the IndyCar Series also is forthcoming, series officials said, and the watch maker is planning a massive IndyCar-centric marketing campaign for next year.
IndyCar officials confirmed that Tag Heuer in 2015 is planning a national print advertising campaign as well as a nationwide IndyCar-themed marketing push at retail outlets that sell Tag watches.
To commemorate the partnership, Tag Heuer has created a special edition watch, the Indy 500 Chronograph. The winner of each race throughout the Verizon IndyCar Series will receive the exclusive timepiece as part of their winnings.
The Indy 500 Chronograph features a gray stylized dial patterned after the iconic Yard of Bricks start/finish line of the historic IMS and a printed "INDY 500" logo inside the counter at 6 o'clock.
"Tag Heuer is an iconic brand and a perfect representation of the speed, precision, technology and innovation that are the pillars of our sport," said Mark Miles, CEO of Hulman & Co., the parent of the IndyCar Series and Indianapolis Motor Speedway.

"The Verizon IndyCar Series embodies Tag Heuer's brand DNA of mental fortitude, perseverance and inner strength and brings it to life," said Tag Heuer President and CEO Ulrich Wohn.

This note of good news comes on the heels of some very bad news on the IndyCar sponsorship front.

The National Guard announced this week that it is ending its sponsorship of IndyCar driver Graham Rahal and NASCAR driver Dale Earnhardt Jr.

The National Guard said in a statement posted on its web site that it spent $32 million on its NASCAR sponsorship and $12 million on its IndyCar sponsorship this year. Sen. Claire McCaskill, D-Missouri, has led a push in Congress to end military sponsorships and has called the funding "wasting a bunch of money."

The IndyCar Series still has its supporters. Jon Flack, chief operating officer for one of the world's biggest motorsports marketing firms, Zionsville-based Just Marketing International, is bullish on the open-wheel series.

"They still need to get their TV ratings up a bit, but I like what's going on with NBC [Sports Network]," Flack said. "Mark Miles and his team have brought a level of stability to the series. I think the series is moving in the right direction."