This year's Indianapolis 500, the 100th running of the open-wheel auto race, accounted for two of the top 10 hotel revenue nights ever for the Indianapolis metro area.

May 28, the night before this year's Indy 500, ranked No. 5 on the all-time revenue list for Indianapolis area hotels, and the night of the race was No. 8, according to Visit Indy officials.

The top 10 hotel revenue nights in central Indiana history have one thing in common, Visit Indy CEO Leonard Hoops recently told the city's Capital Improvement Board. They all occurred during a major sports event hosted by the city.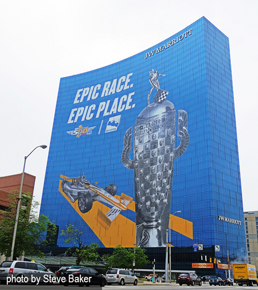 The JW Marriott hosted the Indianapolis 500 Victory Banquet this year and other Indy 500-related events.
The Saturday before this year's Indianapolis 500 pumped $6.4 million into the cash registers of metro area hotels, according to Visit Indy. The race was sold out for the first time in 20 years, and sources close to the track said it drew 350,000 fans—100,000 more than last year.

Dates during the week of the 2012 Super Bowl account for the top four spots, Hoops said. The Saturday before Super Bowl Sunday in 2012 owns the top spot at $8.9 million.

The sixth, seventh, ninth and 10th biggest hotel revenue nights are all connected to NCAA men's Final Fours, Hoops said. Visit Indy officials couldn't confirm by IBJ's deadline which Final Fours were represented. Indianapolis last hosted the men's Final Four at Lucas Oil Stadium in 2010 and 2015.

No. 8 on the list was the night of this year's Indianapolis 500, Hoops told IBJ, Due to strong demand, many area hotels required two or three night stays for this year's Indy 500. Visit Indy could not confirm the revenue amount before IBJ deadline.

In terms of the major sporting events the city has hosted over the last five years, CIB Executive Director Barney Levengood said: "This is as good as it gets."

"Enjoy it while it's here," Levengood told CIB board members. "These things usually run in cycles."

The CIB, which owns Victory Field, Bankers Life Fieldhouse, Lucas Oil Stadium and the Indiana Convention Center, gets a cut of the hotel taxes.

Given that the 100th running of the Indianapolis 500 is a once-in-a-lifetime occurrence and the Super Bowl doesn't appear to be headed here anytime soon, Levengood's advice is sound. The NFL has already awarded the Super Bowl to other host cities through 2021; Houston (2017), Minneapolis (2018), Atlanta (2019), South Florida (2020) and Los Angeles (2021).

Below are the five biggest hotel room nights in Indianapolis' history, according to Visit Indy.

1. Saturday, February 4, 2012 (Super Bowl): $8,945,275

2. Sunday, February 5, 2012 (Super Bowl): $8,915,397

3. Friday, February 3, 2012 (Super Bowl: $8,199,226

4. Thursday, February 2, 2012 (Super Bowl): $7,200,912

5. Saturday, May 28, 2016 (Indy 500): $6,422,746