Former Indianapolis Colts and Denver Broncos quarterback Peyton Manning may have retired from football but he isn't slowing down as a pitchman.

And his agent, Alan Zucker, said he has no plans to do so in the foreseeable future. Zucker thinks Manning will have commercial appeal for many years to come.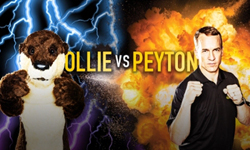 Manning signed his latest deal last month. You can expect to see Manning featured in Otter Box commercials later this fall and into next year. The Fort Collins, Colorado-based maker of protective cases for smart phones, which is an NFL licensee and Broncos sponsor, will emphasize protection in its commercials featuring Manning.

On Friday on ESPN, Otter Box unveiled its first ad featuring Manning. In it, the retired QB battles Ollie, the former Otter Box spokesman, to see who takes on the job as spokesman for the company. In the ad, Ollie punches a cake decorated with the face of Manning. See above for an image from the campaign; to see the humorous clip, click here.

With the Otter Box campaign, Manning will be featured in five national campaigns this NFL season. Only a handful of active players can boast those numbers.

Manning goes back 17 years with DirecTV and this fall is featured in three new ads for the satellite television firm. His brother, Eli—the New York Giants quarterback—also makes an appearance in one of those humorous ads.

Nationwide insurance company is getting ready to release new ads that will have Manning touting retirement products. Humor will also play a part in that campaign.

Papa John's and Gatorade will continue to use Manning in ad campaigns, and both companies will have new ads featuring the recently retired signal caller ready to hit the air later this year and early next year.

While Manning remains busy pitching products, more than a few people think he has a bright future in the broadcast booth. Should Manning decide to go that direction, Zucker said "there are a lot of opportunities in front of him." He declined to elaborate.

There is one thing that could keep No. 18 out of broadcasting. More than a few football insiders think Manning is considering a career in coaching or perhaps in an NFL front office. I'm guessing there are a lot of opportunities in that arena for him as well.