The Pacers are ratcheting up a fledgling recycling effort in Bankers Life Fieldhouse and intend to begin enlisting fans to pitch in during the upcomimng NBA season.

Later this year or early next year, team officials plan to place 73 dual trash-and-recycling containers throughout the fieldhouse to replace the vast majority of trash cans installed when the venue opened in 1999. The goal is to increase recycling and diminish the stream of waste coming out of the 18,165-seat venue.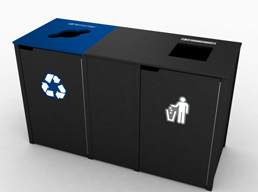 In the upcoming NBA season, 73 dual trash-and-recycling containers will be placed throughout the fieldhouse. (Image courtesy Pacers Sports & Entertainment)
The city's Capital Improvement Board, the quasi-governmental entity that owns downtown's major sports facilities, paid $175,738 to a Wisconsin-based firm for the bins. The team plans to have personnel—including workers from concession vendor Levy Restaurants—on hand to help educate fans about what can and cannot be recycled. Signage also will be posted to help fans navigate the new recycling program.

Pacers officials estimate the fieldhouse generated 730 tons of trash in 2015. Pacers Sports & Entertainment operates the venue for the CIB.

The recycling effort officially kicked off over the summer. During the Indiana Fever season, the fieldhouse cleaning crew began separating aluminum, plastic and glass from the refuse left on the floors in seating areas. In June, the team installed a bailer at the fieldhouse to begin recycling cardboard.

The effort is being pushed by team owner Herb Simon and his son Stephen, who recently has taken on a more active role in the franchise as part-owner.

"Herb and Stephen Simon are both very environmentally conscious and want to make sure we're being good stewards," said Mel Raines, Pacers senior vice president of facilities operations. "They're very supportive of this effort and want to know how we are doing."
Raines isn't yet sure how much recycled material could be recovered by the Pacers' initiative, but thinks it could be significant.
"We're going to be actively monitoring and benchmarking that on a monthly basis," Raines said. "After six months of good benchmarking, we think we'll have a better handle on our capabilities and goals. I think a large percentage of items will be recycled."

The leader of a similar sport-oriented effort in indianapolis applauded the team.

"I think it's great the Pacers are doing this," said Jessica Davis, director of IUPUI's Office of Sustainability. "I know they've been talking about this for a while. Hopefully this will be a nice visible sign of what the franchise stands for. It will be good branding for the team, and, of course, good for the environment. "
In June, at the U.S. Olympic Diving Trials at the Natatorium, IUPUI and Indiana Sports Corp. instituted an aggressive recycling program with the aim of recycling at least 90 percent of the waste generated at the event.
That goal was exceeded, as 94 percent of 2,800 pounds of total waste generated by the event was recycled.
"Thirty percent is the national average—residential and commercial. You want to at least be at that rate," said Davis, who led the Natatorium recycling initiative. "Anything more than that rate is fantastic and is what the goal should be. In a controlled environment like the fieldhouse where people aren't allowed to bring anything in, 30 percent is absolutely realistic."
The Natatorium maximized its recycling by discontinuing individual condiment packets, offering only compostable forks and knives, and demanding food vendors use recyclable and compostable packaging whenever possible.

"If pro sports teams started putting more pressure on vendors to be more sustainable, I'm certain they would comply," Davis said. "The business from those teams is too valuable to risk losing."
Levi's Stadium in San Francisco is the gold standard for recycling at a professional sports venue. In all, 64 percent of consumer waste at Levi's Stadium is recycled, and 87 percent of durable goods get recycled. Both rates are much higher than average, even for the surrounding green-minded region.
Two years ago, the Pacers joined the Green Sports Alliance—an Oregon-based coalition of sports entities bent on reuse, recycling and healthier living—to learn more about going green.
"It became evident our trash containers needed to be refreshed, and we wanted to do something to become more sustainable," Raines said.
So far, the Pacers' recycling efforts haven't proven too onerous.

"The sorting out of recyclables isn't as labor-intensive as we expected. We're finding the labor difference is minimal if any," Raines said. "And we think this could lead to a lower trash collection bill."
The main challenge for the new program, Raines said, is finding space to store the recyclables—many of which can't be bundled together—until they are hauled away.
"The challenge with any large venue is back-of-house space," Raines said. "With a venue this size, there's a good amount of discarded materials. But this is something we're prioritizing and we're making the space."
Raines expects the buy-in from fans to be high.
"I think this is something our fans will embrace," she said. "It's the right thing to do, and we're excited. I think our fans will be to."
The Pacers' recycling program could have an impact that goes far beyond Bankers Life Fieldhouse, said IUPUI's Davis.
"The great thing about professional sports teams becoming involved in initiatives like this is they can align their brands with sustainability and help their fans take these habits home with them," Davis said. "They have such incredible brand loyalty to leverage, they say 'jump' and their fans ask 'how high?'"