It hasn't been the greatest season on the hardwood for the Indiana University men's basketball team. But it likely has been a record-setting season in at least one way for fans of the Hoosiers and virtual reality technology.
During the team's last regular season home game—Feb. 25 against Northwestern—IU attempted to set a world record for the largest collective virtual reality viewing experience.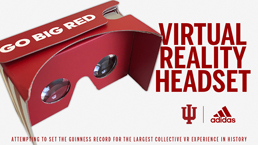 Adidas bought 2,000 virtual reality headsets for the stunt. (Image courtesy Indiana University Athletics)
IU partnered with Adidas in a promotion that included distributing 2,000 co-branded virtual reality headsets to fans at the game—primarily IU students who sat in the Crimson Guard GA section and the south bleachers. Adidas purchased the headsets for the fans, who inserted their smart phones into the cardboard headsets to create the virtual reality experience via a dedicated YouTube playlist.

Jeremy Gray, IU's associate athletic director, called the fan experience "epic."
Officials with the Guinness World Records are in the process of verifying the record. IU officials are confident the event succeeded.
IU has made a major push in utilizing virtual reality and other technology for sports media since Dallas Mavericks owner and IU graduate Mark Cuban gifted the school $5 million to launch the Mark Cuban Center for Sports Media and Technology in 2015.
In fall 2015, IU's athletic department used virtual reality to broadcast Hoosier Hysteria, the men's basketball team's season-opening practice. It was the first collegiate sporting event to be streamed in live virtual reality, according to school officials.
IU partnered with Dallas-based BigLook360 and used five Samsung Gear VR stations for the 2015 attraction. Fans at the stations were able to get a 360-degree view of the action, as if they were standing on the court.