Eli Lilly and Co. is pressing the accelerator on its NASCAR marketing efforts.
On Friday, Lilly and NASCAR officials announced a deal making Lilly Diabetes the official diabetes health partner of the stock car racing circuit.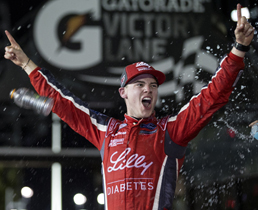 Sponsored by Lilly Diabetes, Ryan Reed last month won the Xfinity Series race at Daytona International Speedway. (Image courtesy Lilly Diabetes)
Terms of the deal were not disclosed, but sports marketing experts peg the value of it in the low-seven-figure range per year.
"I was very impressed last year when we reached out to NASCAR and started to talk about this," Mike Mason, Lilly Diabetes vice president, said at a press conference announcing the new deal. "They saw this as very important in order to really reach out and help their fan base. They care quite a bit about that. You want to partner with people that share similar values, and we're very happy with what we see here."
Through the sponsorship, Indianapolis-based Lilly is aiming to funnel NASCAR fans to Lillydiabetes.com and resources for those afflicted with the disease, Mason added.
Lilly Diabetes' NASCAR deal builds on its primary sponsorship with Roush Fenway Racing's Ryan Reed, who on Feb. 25 won his second career NASCAR Xfinity Series race at Daytona International Speedway.
The Reed-Roush sponsorship, which began in 2013, allows Lilly to promote health and wellness as it relates to diabetes management.
Reed has Type 1 diabetes. Five years ago—at the ripe old age of 17—he was told by a doctor he'd never race again.
But the stubborn son of former NASCAR racer Mark Reed got a second opinion—and a green light to go racing as long as he took proper precautions.
While he's racing at breakneck speeds, Reed is watching more than his speed, RPMs and oil pressure. He has a wireless device attached to his stomach, feeding a constant stream of data to a dashboard-mounted glucose monitor.

Members of Reed's crew are trained to stab him in the leg with a syringe full of insulin if necessary during or after a race.
Lilly incorporates Reed and NASCAR in some of its advertising.
As a part of this new partnership, Lilly Diabetes will work with NASCAR on multiple health and wellness initiatives, including launching a series of articles on NASCAR.com. Lilly also is expected to be active at NASCAR tracks during races and pre-race activities by presenting educational programs.
Additionally, Lilly is working with NASCAR to support efforts for a season-long campaign that will include a fitness challenge for NASCAR teams focused on raising awareness of health and wellness; track walks; and menu planning for at-track officials.
"We understand the daily challenges that millions of Americans face managing this disease," Mason said. "Our partnership with NASCAR, along with our continued relationship with Ryan, emphasizes the critical role of ongoing discussions with your doctor about how to best manage the disease."
"The goal of Lilly Diabetes—driving awareness and education—is critical to NASCAR, as many of our fans are affected by the disease," said Lou Garate, NASCAR vice president of partnership marketing. "The rate of Americans developing diabetes continues to rise, and we hope this partnership can help make a positive change in people's lives."