CricIndy League, a local not-for-profit, will host its third annual day-long, round-robin cricket tournament on Aug. 19, featuring teams sponsored by several area Fortune 500 companies.
The tournament is being played at the Chuck Klein Softball Complex on Rockville Road on the city's west side. And it's a testament to corporate and political leaders who predicted that cricket could be a rallying point for employees of internationally focused businesses.
For the first time, tournament organizers are hosting a networking event—on Aug. 18—at the Salesforce offices in the downtown Gibson Building on North Capitol Avenue. Tournament Director Feroz Syed expects more than 150 executives and managers to attend.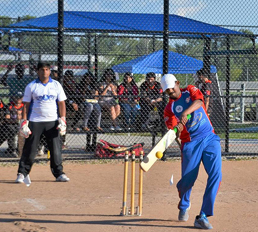 The CricIndy League has found a way to bring together cricket enthusiats and some of the area's biggest companies. (Images courtesy CricIndy League)
"Our thought was to create a platform to encourage people from the local business community to come together," said Syed, a vice president for locally based STLogics. "On the day of the tournament, people are focused on cricket, so we wanted to create a day where people could come together and focus on meeting each other and networking. It's all about the business collaboration."
Local companies sponsoring teams include Eli Lilly and Co., Dow AgroSciences, Skill Demand (STLogics), Deloitte, Salesforce, Roche Diagnostics, Infosys, Tata Consulting Services and Telemon Corp.
Adam J. Krupp, commissioner of Indiana's Department of Revenue, will preside over the tournament's opening ceremonies.
Syed, a self-described cricket super-fan, admitted to being surprised at how much the event has been embraced locally and how quickly it has grown.
"The interest in the first year was a surprise not just to me, but a lot of people," Syed said. "It just goes to show you that cricket is such a popular international sport, and Indianapolis and the companies here are becoming increasingly global and diversified, and that interest in the sport has grown a great deal here."
This year's tournament features nine teams, Syed said four others sought to join but came in after registration closed last month.
"We have to give ourselves time to organize this event properly, including getting everyone uniforms," Syed said. "We think we'll have more teams participating next year as interest rises."
Each team plays eight players at a time with two substitutes per side. The tournament is open to men and women players. The event on Aug. 19 also will feature family-oriented activities.
Greg Ballard, during his term as Indianapolis mayor, touted cricket as a great attraction for the city's growing global workforce.
In 2011, Ballard spearheaded a $6 million project to convert a city park (Post Road Community Park) on the east side into the World Sports Park, an outdoor venue that can host cricket, rugby, hurling and Gaelic football events.
Syed said that while the World Sports Park is a "great facility," CricIndy chose the Chuck Klein Softball Complex because three cricket matches can be played there simultaneously, and that is not possible at the World Sports Park.
The World Sports Park has hosted a handful of major cricket events since it opened in 2014.