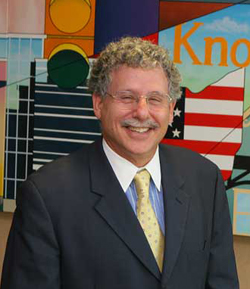 Author and former IUPUI dean Mark Rosentraub is on the move. Rosentraub is leaving his post as dean of the Maxine Goodman Levin College of Urban Affairs at Cleveland State University to take a post with the University of Michigan.
Rosentraub, who spent 12 years at IUPUI followed by eight years at Cleveland State, will be an endowed chair in sports management at Michigan. He officially begins Sept. 1, but Rosentraub said he is moving to Ann Arbor this week.
In 1997, Rosentraub wrote "Major League Losers: The Real Cost of Sports and Who's Paying for it," a 513-page book that took a critical look at major-league operations and the subsidization of professional sports teams and venues by government entities and taxpayers.
Rosentraub, who still maintains a residence in Indianapolis, recently completed "Major League Winners," a book profiling five cities that have successfully used sports as an economic development tool. The cities profiled in the book expected to be published later this year are Indianapolis; Columbus, Ohio; Dallas, San Diego; and St. Louis.
While researching his most recent book, Rosentraub said he uncovered some interesting findings about Indianapolis. He said the city has put itself in a position where it must continue to broker sports deals to maintain its standing among major U.S. cities.
To follow The Score on Twitter:
http://twitter.com/ibjthescore
.