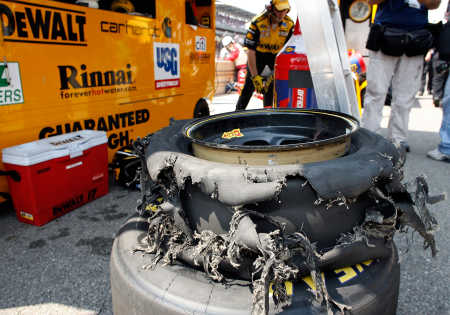 The Indianapolis Motor Speedway today got a strong endorsement for this month's Brickyard 400 NASCAR race from the person whose opinion might matter most.
Tony Stewart, who was at the Speedway this morning for a press conference, stopped short of making the guarantee that Jeff Gordon made last month, but said he expects the tire problems that caused a yellow flag every 10 laps at last year's race to be eliminated at this year's race.
Stewart even made a strong personal appeal as the press conference was winding down for "fans on the fence" to come out to this year's race. "I strongly urge you to come," he said. "I think it's going to be a good show."
Stewart has been a part of two of Goodyear's eight tire tests at IMS and visited the Goodyear facility in Akron, Ohio to allay his fears about the tires that could not stand up to the Brickyard's surface last year. Over the last two years, no one has been more critical of Goodyear than Stewart, who once called for NASCAR to start using either Firestone or Hoosier tires.
"I can promise you [Goodyear] put a full-court press [on solving the tire issue]," said Stewart, a two-time Brickyard 400 champion.
After watching Goodyear work to solve the problem over the last 11 months, Stewart said "I've gained a lot of respect for Goodyear."
Stewart added that he was amazed how much hands-on work goes into making Goodyear race tires.
"Some of the key components are done by a Goodyear engineer," Stewart said. "Not a machine."
Going to Akron and getting a first-hand look at the tire-making process, Stewart said, "eased his mind." The tests at IMS sealed the deal for the driver affectionately known as Smoke.
"We ran almost 30 laps and weren't even down to the cord," Stewart said. "And a tire test is usually harder on the tires than the race."
With ticket sales for this year's Brickyard 400 lagging, Stewart's Goodyear endorsement comes at a good time for the Speedway, which last week announced a leadership change. Tony George was removed as IMS boss and replaced by chief financial officer Jeffrey Belskus.
To follow The Score on Twitter:
http://twitter.com/ibjthescore
.