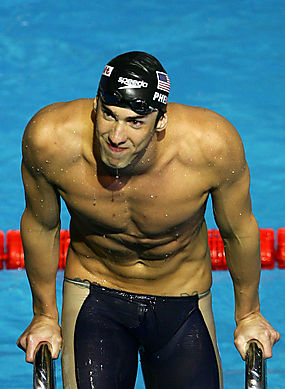 The large crowds and deafening roar at the Natatorium this week, the world record and of course the presence of Michael Phelps almost makes you forget the downtown swim facility needs work—millions of dollars worth of work.
Some work has been done in the last year, when $12 million to $15 million in needed upgrades and improvements were identified by the folks interested in bringing national- and world-class events to the facility on the IUPUI campus.
A new water purifying system has been installed. Improvements to the air handling system has cleared the air. Improvements have been made in recent months to locker rooms, restrooms and a hospitality area.
Natatorium Director Julie McKenney said millions of dollars worth of improvements still need to be done. The roof and heating/air conditioning system needs to be replaced as well as the sound system and other support infrastructure.
"This is an amazing facility," McKenney said. "But it was built in 1982, and it needs upgrades."
It's more than the water and air that have become clear at the Natatorium this week. This week's ConocoPhillips USA Swimming Championships has shown this facility is worth preserving.
Last night, more than 100 people were turned away from the facility which seats 2,800. Tonight is a near sellout. And Friday, well you better hurry—Michael Phelps is scheduled to swim again. The event has drawn 800 athletes, 400 coaches, 150 volunteers and 55 coaches to Indianapolis.
"The exposure for our city and this facility have been fantastic," said Arlene McDonald, event director for Indiana Swimming, which is co-hosting the event.
The exposure has extends to NBC's Universal Sports channel, which aired Tuesday and Wednesday's action, and NBC, which will air the event Saturday and Sunday afternoon. And it certainly didn't hurt to have Michael Phelps on ESPN this morning saying how much he enjoys competing in Indianapolis.
That kind of exposure makes the value of the event go far beyond the $2.3 million direct visitor spending the swim meet brings this city. If that's not incentive enough, the NCAA has dangled a big swim "festival" before Indianapolis, if improvements are made.
This week's event, while expensive to host, should register a small profit, McDonald said, and that should provide the Natatorium with a five-digit sum to make more upgrades. McKenney said IUPUI and IU officials have made a long-term comitment to continue Natatorium upgrades.
"That's just a drop in the bucket," McDonald said. "But we have a start, and as a result there are plans on the board for future [big-time] events."
To follow The Score on Twitter:
http://twitter.com/ibjthescore
.