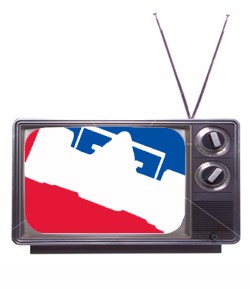 The national TV rating for Watkins Glen was up compared to other Indy Racing League races this year on ABC (not including Indianapolis). But the local audience was down.
The Camping World Grand Prix at The Glen, which aired starting at 1 p.m. Sunday, registered a .87 Nielsen rating nationally, meaning just more than 1 million TV households tuned in.
The national rating fared favorably compared to IRL races at Milwaukee (May 31), which was .6, and Iowa (June 21), which was .8.
In the Indianapolis market, the Nielsen rating for the Watkins Glen race was 2.74, meaning 31,000 TV households watched. Milwaukee scored a 4.1 locally and Iowa notched a 3.6.
This week's IRL race in the streets of Toronto airs Sunday at 1 p.m. It's the last of five races this year to air on ABC. The last seven races air on Versus cable channel.
To follow The Score on Twitter:
http://twitter.com/ibjthescore
.