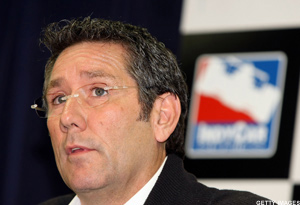 Tony George broke his silence today—sort of.
In a carefully crafted statement on Vision Racing's Web site, George explained why he declined to retain the position of Indy Racing League CEO after the board removed him as boss of the Indianapolis Motor Speedway.
George said retaining the position of IRL chief would have added an unneeded layer of bureaucracy to the organization. He also pointed out in his statement, that as head of the IRL he would have reported to Jeffrey Belskus, who was appointed by the board to replace him as head of the Speedway. That set-up, sources close to the IRL and IMS said, didn't sit well with George. Belskus is now in charge of the IMS and IRL.
"From the perspective of my experience as president and CEO of the Indianapolis Motor Speedway, I am acutely aware that the interests of IndyCar racing as a sport, the IRL as a league, and the most important motorsports race in the world, are mutually dependant and inter-connected, both now and in the future," George said in his statement. "I did not feel that a subordinate position as "CEO of the IRL" was a management vehicle which would allow me to accomplish the objectives that the family and the board requested me to pursue. I declined that position."
George explained in his statement that he does not plan to do any media interviews or speak publicly on the matter further until a time he deems appropriate.
Belskus has not been available for comment since his new position was announced. IRL media relations officials said he would not be available for interviews until at least mid July.
To read George's entire statement, click
here
.
To follow The Score on Twitter:
http://twitter.com/ibjthescore
.