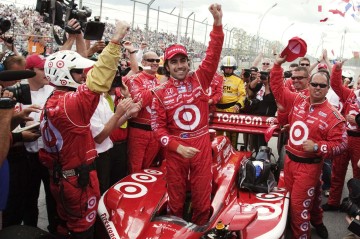 Toronto has long been one of the biggest markets for open-wheel racing in North America. Last year marked the first time in 22 years there was no open-wheel event there.
Even after what some observers called one of the most exciting IRL races of the year, promoters of the Honda Indy Toronto street race were peppered with questions about attendance, economic impact and the race's future.
While event manger Charlie Johnstone and Kevin Savoree, of Andretti Green Promotions, didn't give much information about crowd size, they said the race would definitely be back on next year's IRL schedule.
Media members were unrelenting after the race, continuing to ask the duo about bare patches in the grandstands and insisted on crowd and revenue comparisons to the days when the race was a Champ Car event.
"We have a five-year plan to rebuild this car race," said Savoree, whose company is a division of Andretti Green Racing and helps run the event. "As far as the on-track product today, it was fantastic. There was something for everyone.
"We have lot of confidence that fans will be back next year, and that's what we'll focus on. Honda has a policy of reflection—we'll do that, we'll reflect on the event, and we'll make it bigger and better next year. We accomplished everything we wanted to accomplish for 2009 event."
Savoree added that his firm and the IRL have a three-year contract for the race in the streets of Toronto with options to continue beyond that.
To follow The Score on Twitter:
http://twitter.com/ibjthescore
.