Welcome to What's New Wednesday, where we profile local startups—and the entrepreneurs behind them. This week, meet Gary Patterson and Jason White, who opened Kreme Twenty-Four in September.

Type of business: Boutique

Address: 661 E. 49th St.

Phone: 921-7089

E-mail: info@ktfstore.com

Website: www.ktfstore.com

Founded: September 2011

Owners: Jason White and Gary Patterson

Owners' background: Patterson, 26, played college basketball for IUPUI, graduating in 2009 with a marketing degree. He worked as a retail manager at Lids before spending a year as a mentor at Indianapolis Public Schools.

During college and afterward, he also helped out at the Got Sole shoe store in Broad Ripple, where he met White.

The men became friends, bonding over their common love of fashion—and their shared frustration that Indianapolis didn't have the kind of independent boutiques they frequented in other cities.

Before long, they decided to stop complaining about what was missing and do something about it.

White, 33, earned an engineering degree from Purdue University and now lives and works in Boston. He returns to his hometown every few months to see how things are going at the shop, and he and Patterson talk several times a day.

"It's pretty much like he's here," Patterson said.

The partners spent about 18 months developing the Kreme Twenty-Four concept, envisioning a shop that sold fashion-forward clothing and accessories. They added simple, customizable bicycles to the product mix after White moved to Boston and saw how residents there embraced bikes as a mode of transportation.

Why started business: A native of East Chicago who came to Indianapolis on a basketball scholarship, Patterson missed the small shops he frequented as a teenager. And he always knew he wanted to own a business, so it made sense to combine his passions.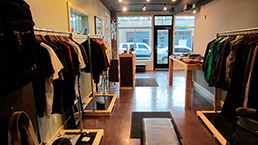 Kreme Twenty-Four sells clothing, accessories and bicycles. (Provided photo)

"I love what I'm selling," Patterson said. "That makes it easier."
White shared his fashion sense and enthusiasm—and eventually, his entrepreneurial instincts.

Competitive advantage: The partners say the product mix—things like Nudie organic denim, WeWood wooden watches and Linus "city" bikes—sets their store apart from major retailers.

"We try to bring in items that aren't available everywhere," Patterson said. "We feel like we have a niche."

Startup cost: Patterson declined to provide specifics but said he and White are trying to keep overhead low.

Funding source: The partners funded the business with their own savings and support from family and friends. That was the safest bet, Patterson said.

"If we got outside money and things go wrong, we'd have to pay it back," he said.

Potential problem and contingency plan: As with any bricks-and-mortar business, the biggest challenge is getting customers in the door. And Kreme Twenty-Four's location—just west of the intersection of North College Avenue and 49th Street—doesn't provide much walk-by traffic, making it difficult to appeal to window shoppers the way a shopping center storefront might.

But Patterson and White nevertheless have high hopes for the up-and-coming neighborhood south of Broad Ripple. The Upland brewery's tasting room is just around the corner, and upscale eatery Recess is across the way.

White said they are preparing to launch a marketing initiative to build awareness of the shop and its unusual offerings. Among the plans: upgrading Kreme Twenty-Four's website to include e-commerce capabilities and fliers featuring some distinctive products that could attract shoppers.

The shop already uses Facebook and Twitter to communicate with customers and regularly updates its blog when new inventory arrives.

"We have to get out there and let people know we're here," Patterson said. "We're less than 15 minutes away from the major shopping districts in Indianapolis: Keystone, Castleton, Broad Ripple. We need to get our name out there."