On July 7, 2023, Indianapolis Business Journal will publish our sixth annual Business Cares cover demonstrating the local business community's support for diverse, equitable and inclusive workplaces.
We invite your company to promote diversity, equity and inclusion, by placing your LOGO on the front cover of IBJ for only $850.
Your investment will support a full month of exposure for workplace Diversity, Equity and Inclusion in print, e-news and online. A special Diversity, Equity and Inclusion section in the July 7 issue of Indianapolis Business Journal, will spotlight companies that have embraced diversity, equity and inclusion. There will be advice columns from a variety of community partners about how your organization can build a more inclusive environment. Ad placement within this special section is available, as is ad placement in IBJ's Diversity in Business Focus section, which publishes the same week.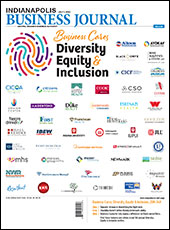 Contact Me About Advertising
For more information, call your IBJ Account Executive 317-634-6200 or advertise@ibj.com.
Check out the IBJ MEDIA KIT