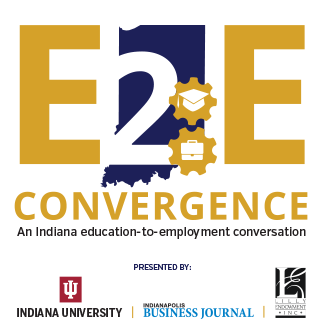 Questions:

Q:

How do we improve student awareness of the career opportunities that are available to them in Indiana?

Q:

How can employers and educators come together to more effectively address supply
and demand alignment in the workforce?

Q:

What best practices can workplaces adopt to increase the likelihood of success of young professionals?

Q:

What models of industry-university collaboration are working well in Indiana?

Q:

How can we make career awareness and skills development a more integrated part of the student experience?


The answers to these and other questions will be discussed.
Featured Panelists:

Bridget Boyle
Vice President &
Site Head Human
Resources
Roche Diagnostics

Danette Gerald Howard
Chief Strategy
Officer and Senior
Vice President
Lumina Foundation

Jay Roberts
Associate
Vice President,
Academic Affairs
Earlham College

Ryan Twiss
Vice President of
Regional Initiatives
Northeast Indiana
Regional Partnership

Ray Wallace
Chancellor
Indiana University
Southeast

Moderated By:

Hayleigh Colombo
Reporter
Indianapolis Business
Journal
Date:
April 24, 2018
Location:
Marriott Indianapolis, 350 West Maryland Street
Registration:
7:30 am
Breakfast/Presentation:
8:00 am - 10:00 am
Individual Subscriber:
$40.00
Individual Non-Subscriber:
$50.00
Corporate Table of 10:
$950.00 (corporate table signage includes table signage and a listing in both the program and event thank you ad)
Pricing
E2E Convergence - Non Subscriber Ticket
E2E Convergence - Subscriber Ticket
E2E Convergence - Corporate Table of 10