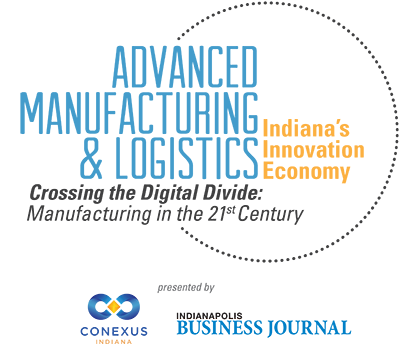 Questions:

Q:

In what ways is manufacturing changing due to the advent of Industry 4.0?

Q:

What are the advanced technologies that will be most impactful first?

Q:

How has adoption of advanced technology changed the way you think about workforce in terms of skill sets, training and company culture?

Q:

How do legacy companies cross the digital divide? Is there an advantage to being a new company entrant for advanced manufacturing as it relates to technology adoption?

Q:

How are you developing a workforce to support your future needs?

The program will include a virtual tour of the factory of the future.
Keynote Speaker

Gerald Johnson
Executive Vice President,
Global Manufacturing
General Motors Company

Panel Moderator

Elizabeth Hagerman, Ph.D.
Chief Innovation &
Strategy Officer
Conexus Indiana

Featured Panelists:

Tara MacNair
Chief Technology
Officer
ArcelorMittal
North America

Mehdi
Miremadi
Partner
McKinsey & Company

David Roberts
Chief Innovation
Officer & Senior
Vice President
Indiana Economic
Development Corporation

Kimberly K. Ryan
Senior Vice President
Hillenbrand, Inc.
President
Coperion
Date:
Friday, June 7, 2019
Location:
Marriott Indianapolis, 350 West Maryland Street
Registration:
7:30 am
Breakfast/Presentation:
8:00 am
Individual Subscriber:
$40.00
Individual Non-Subscriber:
$50.00
Corporate Table of 10:
$950.00 (corporate table signage includes table signage and a listing in both the program and event thank you ad)
IBJ Digital Subscribers – Log in to receive your discounted price. Not a subscriber? Subscribe today.
IBJ Print Only Subscribers – Contact Mike McGrath at 317-472-5344 to receive assistance with your user/login information.
(Discount applies to Individual ticket purchase only. Excludes corporate table purchase.)
Pricing
Conexus Manufacturing & Logistics - Non Subscriber Ticket
Conexus Manufacturing & Logistics - Corporate Table of 10