Indiana Defense Summit 2020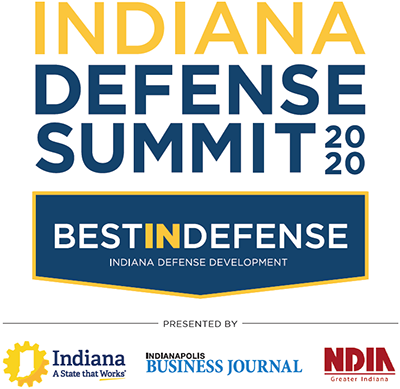 Keynote Speaker:


The Honorable
Lisa W. Hershman
Chief Management Officer
Department of Defense

Featured Speakers:


U.S. Senator Todd Young
U.S. Senate

John Fairbanks
Founder & Chief Executive Officer
Pruv Mobility Ecosystem

George Ferguson
Senior Aerospace & Defense Analyst
Bloomberg Intelligence

Rachel Leslie
President
NDIA Greater Indiana

Aaron Pierce
Chief Executive Officer
Pierce Aerospace

Dr. Jeffrey Rhoads
Chief Operating Officer
Next Offset Solutions

Jim Schellinger
Secretary of Commerce
State of Indiana

Maj. Gen. Omer C. Tooley Jr. (Ret.)
President, Defense Development
IEDC

Tim Walton
Executive Vice President of Procurement
Rolls Royce
Breakout Sessions:
CYBERSECURITY MATURITY MODEL CERTIFICATION STANDARDS – 10-11 am
As critical infrastructure and systems become digitally interconnected, the Department of Defense (DoD) recognizes the need to establish cybersecurity standards among the contractors and subcontractors with which they do business. During this session, Indiana companies will learn more about the DoD's new Cybersecurity Maturity Model Certification standards, including the steps businesses – both large and small – will be required to take in order to compete for and win federal contracts.
INDIANA DEFENSE ECOSYSTEM NETWORKING – 11-12 pm
Indiana has a rich tradition of developing safe, reliable and innovative products that support our nation's military. Attendees will have the opportunity to connect with industry stakeholders like the Indiana Defense Network – a collaborative structure of industry, research and development and military assets – and learn more about the state's strategic approach to cultivating a 21st century defense solutions ecosystem.
Date:
Friday, February 21, 2020
Location:
JW Marriott 10 South West Street
Registration:
7:30 am
Breakfast / Presentation:
8:00 - 10:00 am
Individual Subscriber:
$40.00
Individual Non-Subscriber:
$50.00
Corporate Table of 10:
$950.00 (corporate table signage includes table signage and a listing in both the program and event thank you ad)
IBJ Digital Subscribers – Log in to receive your discounted price. Not a subscriber? Subscribe today.
IBJ Print Only Subscribers – Contact Customer Service via email here to receive assistance with your user/login information.
(Discount applies to Individual ticket purchase only. Excludes corporate table purchase.)
Pricing