Conexus Manufacturing & Logistics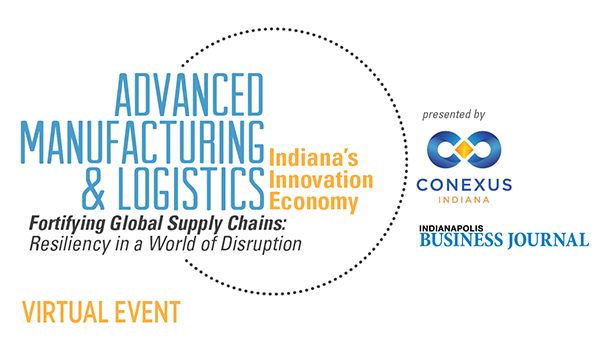 Questions:

Q:

What have we learned about the strengths and vulnerabilities of supply chains over the last two years?

Q:

What is the value of mapping entire supply chains? What steps should a company take to map its supply chain?

Q:

What resources are available to Indiana companies to help strengthen their supply chains and brace for disruption?

Q:

What is the State of Indiana doing to leverage its position to attract more direct investment, on-shoring and near-shoring? What are the benefits of public-private partnerships in shortening and strengthening global supply chains?

Q:

What are the tradeoffs between a supply chain optimized for efficiency and the associated costs versus one designed for resiliency to shock and disruption? What attributes are common to both?
Keynote Speaker

Chris Sultemeier
Retired, Executive Vice
President Logistics
Walmart

Panel Moderator

Teresa van Niekerk
Vice President of Purchasing
& Supplier Quality
Allison Transmission, Inc.

Featured Panelists:

Rachel Hazaray
Deputy General Counsel
& Senior Manager
Legal and Compliance &
Corporate Social Responsibility
Subaru of Indiana Automotive

Ronan Miot
Executive Vice President
Heartland Automotive, LLC

Harry C. Moser
Founder & President
Reshoring Initiative®

Andrea Richter-Garry
Vice President for
International Engagement
Indiana Economic
Development Corporation

Jane Siegler
Assistant Professor of
Operations & Supply
Chain Management
Butler University
Date:
Friday, June 18, 2021
Location:
Virtual Event
Lunch / Presentation:
9:00 am (EST)
IBJ Digital Subscribers – Log in to receive your discounted price. Not a subscriber? Subscribe today.
IBJ Print Only Subscribers – Contact Customer Service via email here to receive assistance with your user/login information.
(Discount applies to Individual ticket purchase only. Excludes corporate table purchase.)
Pricing