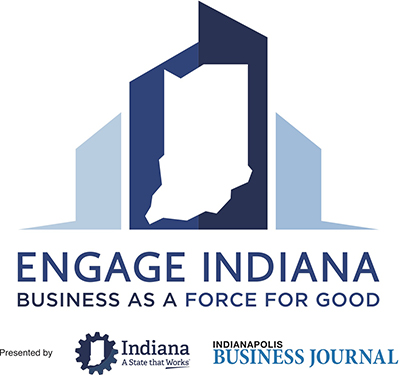 This year, at our Engage Indiana event, we will convene Indiana's C-suite executives, community leaders, and business professionals to hear from Cummins' Chairman & CEO Tom Linebarger and a distinguished panel address how companies can take their engagement to the next level to help create the cities of the future in Indiana and to make them better places to live, work, and play.
Includes the presentation of Indianapolis Business Journal's 2019 Michael A. Carroll Award.
INSPIRE your businesses to a new way of thinking about the importance of community engagement within your organization,
BUILD revenue while simultaneously making communities across our state more vibrant; and,
ENGAGE alongside Indiana's business community as we establish ourselves as a national leader in utilizing corporate social responsibility principles to attract and build businesses, retain high-quality talent and strengthen our communities.
Featured Speaker:

Tom Linebarger
Chairman & CEO
Cummins Inc.

Panel Moderator:

Chris W. Cotterill
Chief Operating Officer
Indiana Economic Development Corporation

Featured Panelists:

Amrou Awaysheh
Professor of Operations & Supply Chain Management
Kelley School of Business
Indiana University

Kevin Brinegar
President & CEO
Indiana Chamber of Commerce

Claudia Cummings
President & CEO
Indiana Philanthropy Alliance

Andy Medley
CEO & Co-Founder
PERQ
Date:
Friday, December 06, 2019
Location:
JW Marriott, 10 South West Street
Registration:
7:30 am
Breakfast / Presentation:
8:00 am
Individual Subscriber:
$40.00
Individual Non-Subscriber:
$50.00
Corporate Table of 10:
$950.00 (corporate table signage includes table signage and a listing in both the program and event thank you ad)
IBJ Digital Subscribers – Log in to receive your discounted price. Not a subscriber? Subscribe today.
IBJ Print Only Subscribers – Contact Mike McGrath at 317-472-5344 to receive assistance with your user/login information.
(Discount applies to Individual ticket purchase only. Excludes corporate table purchase.)
Pricing