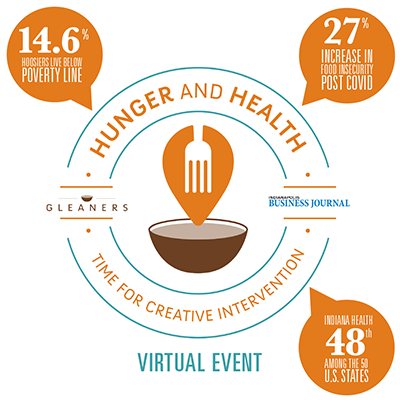 Questions:

Q:

Why are the food insecure at higher risk for chronic conditions? What role does nutrition play?

Q:

At what point does the increased need begin to recede?

Q:

What has led to Indiana's drop from 41st to 48th in health rankings?
Keynote Speaker:

Jeff Simmons
Chief Executive Officer
Elanco Animal Health Inc.

Featured Panelists:

Richard Gordon
SNAP Outreach Manager
Gleaners Food Bank of Indiana

Cynthia Meneghini, MD
Primary Care Physician
Community Health Network

Thomas Whittaker, MD
Retired Physician
IU Health

Panel Moderator:

Lesley Weidenbener
Managing Editor
Indianapolis Business Journal
Date:
Friday, October 23, 2020
Location:
Virtual Event
Presentation:
8:30 am
Individual Ticket:
No Charge
Corporate Room:
$100.00
IBJ Digital Subscribers – Log in to receive your discounted price. Not a subscriber? Subscribe today.
IBJ Print Only Subscribers – Contact Customer Service via email here to receive assistance with your user/login information.
(Discount applies to Individual ticket purchase only. Excludes corporate table purchase.)
Pricing