Massachusetts Avenue continues to be a hotbed for restaurant activity.
Property Lines reported May 20 that The Eagle will replace The Front Page Sports Bar & Grill at 310 Massachusetts Ave.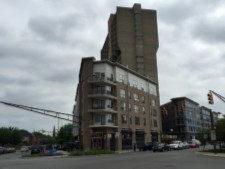 Now, two more eateries are coming to the trendy cultural district. Lincoln Square Pancake House and a yet-to-be-named steak and seafood chophouse have committed to Millikan on Mass.
That's the $23 million apartment and retail development under construction between Mass Ave and Michigan Street that wraps Barton Tower and bounds East Street.
The two will join Fat Dan's Chicago-Style Deli (Property Lines reported its lease signing in April) and Nine Irish Brothers, which opened in June 2014.
The new commitments bring the retail portion of the project almost to full occupancy, and it's not even slated for completion until September. The restaurants could open sometime in late fall, said Brian Epstein of Urban Space. He represents project owner Insight Development, an arm of the Indianapolis Housing Agency.
The local flavor of the restaurants is no coincidence, Epstein said.
"I got a directive from ownership to try to keep it as local as possible," he said. "We had interest from regional chains and we put them on the backburner until we exhausted all our efforts with the local folks."
Nine Irish Brothers has pubs in Lafayette and West Lafayette. Lincoln Square has nine Indiana locations, including seven in the metropolitan area, and Fat Dan's has one existing deli, at 5410 N. College Ave.
Shawn Cannon, who operates Fireside Brewhouse in Greenwood and downtown's Tow Yard Brewing, will bring the yet-to-be-named chophouse to Millikan on Mass.
The retail portion of the Millikan project received a $750,000 federal grant obtained by Insight. In exchange, the retailers have agreed to offer jobs to low-income residents of the development.
In other restaurant and retail news:
• Jockamo Upper Crust Pizza opened its third location, at the Village of Fort Harrison, on May 28.
New specialty pizzas available include the Caprese, The Cuban, The Jockamo Special, The Bollywood and Lasagna Pizza. Also new: mimosas available by the can or bucket on Saturdays and Sundays.
Jockamo moved into the $5.5 million, 36,000-square-foot office/retail building at the northwest corner of 56th Street and Lawrence Village Parkway, just east of Post Road. The building contains 25,000 square feet of office suites; the balance will be retail.
Irvington neighbors Bob Stark and Mick McGrath launched Jockamo in the east-side neighborhood in 2007 and followed up with a Greenwood location three years later.
• McCormick & Schmick's will host a preview party from 5:30 p.m. to 7:30 p.m. June 24 at its 110 N. Illinois St. restaurant. The restaurant is celebrating property renovations and new menu items.
• Camp Bow Wow, the doggy daycare franchise, is opening in Lawrence at 10830 Pendleton Pike. Operated by Kathy Underwood, the 10,000-square-foot facility is slated to open June 13.
• Lava Lips at 4915 N. College Ave. closed May 16 but will continue to offer its sauces, spices and herbs online. More information is available at www.lavalipsindy.com.
 
Please enable JavaScript to view this content.