Enterprise Rent-A-Car has been given the green light to set up shop in an unlikely place—on the top floor of the recently constructed but underutilized Broad Ripple parking garage at the intersection of College Avenue and Boulevard.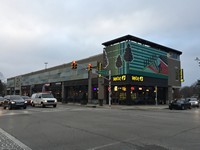 A city zoning board approved a variance by a 3-2 vote Tuesday allowing Enterprise to construct a 500-square-foot office and car wash on top of the garage, in addition to taking 20 rooftop parking spaces.
"The garage has been very underutilized, especially on the top floor," Joseph Calderon, a lawyer representing Enterprise, told the zoning board. "There is never a time when there is a capacity issue at the garage."
Local developer Keystone Group built the $15 million, 350-space parking garage at 6280 N. College Ave. with the help of a $6.3 million subsidy from city parking meter revenue, which would normally flow into city coffers.
The garage, which includes 28,000-square-feet of retail space anchored by HopCat, opened in April 2013 and is never above 80 percent capacity, Calderon argued.
Enterprise would lease the top-level space from Keystone Group. Calderon estimated that Enterprise would take less than 10 percent of the available spaces.
Local conservation advocate Clark Kahlo was one of two citizens who spoke out against the variance at Tuesday's meeting, arguing the garage is a "public necessity" and that "us taxpayers have a huge stake" in it.
The office will be built at the northern tip of the garage, behind the façade where College Avenue and Westfield Boulevard meet. It won't add any height to the structure and won't be visible from the street, Calderon said.
"What we're trying to convey to you is that Enterprise's facility will not only be compatible [with the garage] but innocuous," he told the board.
The garage and shops have proven to be a valuable asset to Broad Ripple, Michael Patarino, a senior vice president of Keystone, said in a written statement. "Due to Indiana winters, the top floor is the least utilized area of the garage," he said, "so we believe a small Enterprise kiosk will serve as another valuable community asset and amenity."
Department of Metropolitan Development staff supported the variance. They wrote in a report that "the upper floors of this building are underutilized parking spaces, and staff does not believe that this petition would cause any hardship to the existing tenants in the building or to the surrounding areas."
Please enable JavaScript to view this content.