SEPT. 22-28, 2023
The latest issue of IBJ is packed with stories on the new relevancy and accessibility of artificial intelligence, now that the technology has taken a transformative step. We have stories about AI's potential impact on the Hoosier workforce, how artists and pharmaceutical developers are using the technology, how schools are preparing students for the future of AI, and how Indiana and other states are approaching potential regulation of AI.
Advances in technology traditionally have had the biggest impact on more physical jobs, but generative AI tools will likely be most disruptive for jobs that require brains, not brawn.
Read More
Creative work is being done quickly and at an affordable price, thanks to AI software that generates text, images and other media. But drawbacks of AI include work that's generated without compensation and attribution for source material.
Read More
During the last nine years, the cumulative amount of AI investments across the pharma and biotech sectors has increased by almost thirtyfold, to $24.6 billion as of last December.
Read More
Frank Emmert of the IU McKinney School of Law talks about how the legal and ethical questions that will arise from the increasing use of artificial intelligence could test current laws and courts' ability to untangle the technology.
Read More
Indiana's major state universities are making big additions in artificial intelligence academic programs.
Read More
Artificial intelligence—or AI—refers to the simulation of human intelligence in machines that are programmed to think and learn like humans.
Read More
Fears about the potential misuse or unintended consequences of AI prompted more than half of all U.S. states to introduce AI legislation in the 2023 legislative session.
Read More
Paxafe, founded in Milwaukee in 2018 and moved to Indianapolis in 2021, has an AI-risk management platform that predicts when things might go wrong so that its customers can fix them.
Read More
Developments in artificial intelligence during the pandemic greatly improved the COVID-19 screening, diagnostics and prediction process, according to a 2021 study by the National Institutes of Health.
Read More
Orthodontic Details says its customers might not realize the extent to which artificial intelligence is integrated into the company's platform, but the technology is having a profound impact on their office operations.
Read More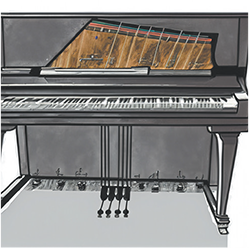 Jordan Munson used AI to create audio and then fed it into a Disklavier, the modern equivalent of a player piano that relies on computer files rather than perforated paper rolls to deliver music.
Read More
The group has used Placer.ai, an artificial-intelligence-based software system that partners with a wide range of mobile apps companies to measure movement using anonymous phone-tracking software.
Read More
The team wants to use artificial intelligence to provide news about a fan's favorite player, suggest best routes to the fieldhouse and available parking spaces, make restaurant recommendations based on customer preferences and party size, and more.
Read More
While it's been only a few months since he started using artificial intelligence, Stuart Collins can't imagine teaching and researching without it.
Read More
The 2023 annual summit, next Thursday and Friday, will serve as the launch for a yearlong series called "AI in the Legal Industry: An ISBA Series Presented by LexisNexis."
Read More
We had Bard profile the mayoral races in Carmel, Evansville and Indianapolis. Each report came back in seconds.
Read More
According to a report in May from the National Federation of State High School Associations, based in Indianapolis, nearly 80% of high school referees and umpires quit within three years.
Read More
A new, AI-assisted form of thermal vision under development at Purdue University could one day revolutionize everything from sensors in self-driving cars to remote patient monitoring in medical facilities.
Read More
In presidential election years, the percentage of eligible Hoosiers registered to vote dropped from 71.3% in 2012 to 69.3% in 2020.
Read More
I asked ChatGPT to "write a newspaper story about the history of the Indianapolis Business Journal." The result—produced in seconds—was a flowery, verbose and often incorrect take on our news organization.
Read More
We urge IPS and its governing body to reconsider their position on unused buildings and allow the buildings to be used to educate the community's children.
Read More
Venues need to learn about, acquire and effectively deploy accommodations that will allow children and adults with autism and other developmental disabilities to enjoy full access.
Read More
You're clearly not winning, your advisers are undoubtedly frustrated by you, and frankly I'm frustrated by this situation too.
Read More
Economic reality is currently trumping political aspiration in New York City.
Read More
We will be electing a president every four years, but who knows how long your family will be with you?
Read More
While other cities struggle, we're making ambitious moves.
Read More
Once Spark concludes, it's time to roll up the artificial turf and allow cars and more people to circulate around the Circle again.
Read More
Unlike with international terrorism, there is no federal statute against domestic terrorism.
Read More
I know FBI Director Chris Wray from earlier days in the Justice Department, and he is a man of unassailable integrity.
Read More
Kennedy is a purveyor of fringe science that extends outrageously beyond vaccine-related issues.
Read More
His greatest accomplishment was the creation of a community college system, but he should also be remembered for deft handling of the budget crisis created by 9/11
Read More
It appears to some there are efforts underway to make this race about one candidate.
Read More
We will be electing a president every four years, but who knows how long your family will be with you?
Read More
Based on recent actions, it doesn't appear they want this for everyone, only for themselves.
Read More
Indiana adults with a bachelor's degree earn $1 million more in their career lifetime than do adults with only a high school diploma.
Read More
Whether or not you like Jimmy Buffett's music, he will be missed by many of us, for many reasons, not all of which can be translated into words.
Read More
Skyrocketing housing prices and the increasing ability to work from anywhere appear to be the main roots of the trend.
Read More
Getting rid of the income tax would leave a 38% hole in the state budget, or a tad bit more than $7.5 billion per year.
Read More
While there are plenty of reasons to lament the direction of Indianapolis, civic entrepreneurs like these inspire hope.
Read More
The simple fact is that the Indiana Republican Party is built on two pillars: wealthy donors and ideologically driven voters.
Read More
Most important, zakat remains an interpersonal and communal practice that is nourished by direct relationships.
Read More
In my still-growing business, I learn something every day.
Read More
Carl Ceresoli is credited with helping Pacers Sports & Entertainment rethink its approach to technology-as-customer-service, hardware and cybersecurity.
Read More
Greg Clancy, Indiana Farm Bureau Insurance's former chief information officer, said Hong Gao has taken the organization "from the Dark Ages of data analytics and has really moved the needle in driving corporate performance."
Read More
Rebecca Ruselink leads a team of 17 that over the last seven years has helped increase attendance at the Indianapolis 500 from 220,000 to 325,000 fans and increase the television audience, social/digital media, merchandise sales and race attendance at other IndyCar venues.
Read More
Roger Deetz is vice president of engineering at Chicago-based Blueprint, which provides digital tools that enable mental-health providers to deliver more effective treatment.
Read More
Charlie Clark is chief innovation officer Hc1 Insights, which works with artificial intelligence and machine learning to take complex medical laboratory data from thousands of locations and uses it to improve testing and treatment decisions for millions of patients.
Read More
Calvin Hendryx-Parker is chief technology officer and co-founder of Six Feet Up, a custom software developer.
Read More
Jenny Sissom is responsible for maintaining and continually improving Allison Transmission's cybersecurity program across the global organization.
Read More
Rich Carter is credited with implementing the company's first global customer relationship management platform with Salesforce and launching Lilly Together.
Read More
In 34 years at Cummins, Wayne Eckerle's roles have included advanced manufacturing, fuel systems technology, and global research and technology leader.
Read More
As executive director/chief of staff, Genevie Jones has overseen the planning and execution of a five-year technology plan for IU Health.
Read More
As CIO for Parkview Health, a not-for-profit, community-based health care system that operates 10 hospitals and more than 200 clinic locations in 16 counties in northeastern Indiana and northwestern Ohio, Ron Double has worked his way up to lead all of the organization's information systems and technology.
Read More
Ian Hyatt, who leads a team of 700-plus IT people at Purdue University, is credited with bringing a steady hand to the position as well as advances in cybersecurity, student experience and research support.
Read More