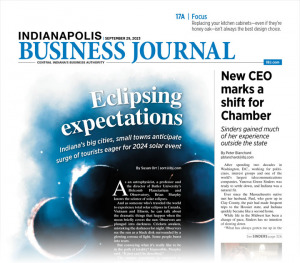 SEPT. 29-OCT. 5, 2023
The total eclipse that will be visible in central Indiana this April presents a huge opportunity for the area's tourism industry. Susan Orr details how big cities and small towns are trying to take advantage. Also in this week's issue, Peter Blanchard picks the brain of Vanessa Green Sinders, the first female president of the Indiana Chamber of Commerce in its 100-year history. And David Lindquist gets a read on the sudden reemergence of independent bookstores in Indianapolis.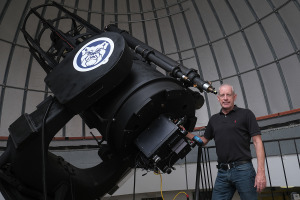 Indiana's tourism industry, plus public safety officials and others, already are laser-focused on April 8, 2024. On that day a sizable swath of the state, including Indianapolis, will be in the path of totality for a solar eclipse whose path will arc across the U.S. from Texas to Maine.
Read More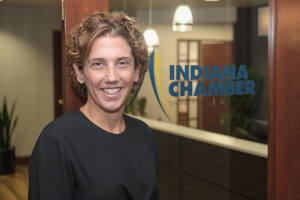 After spending two decades in Washington, D.C., working for politicians, interest groups and one of the world's largest telecommunications companies, Vanessa Green Sinders was ready to settle down, and Indiana was a natural fit.
Read More
Popular East Coast chain Wawa and Missouri-based Wally's travel centers are both planning Indiana locations.
Read More
The wave of new retailers includes Loudmouth Books, Golden Hour Books, Dream Palace Books & Coffee, The Whispering Shelf and Tomorrow Bookstore.
Read More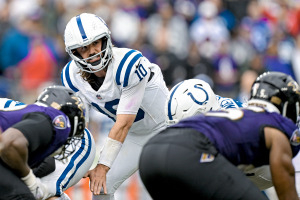 Or maybe this is an overreaction to a game the Colts should have and would have lost if one of a dozen different plays went differently.
Read More
Mary Beth Oakes began working at Business Furniture—which is celebrating its 101st anniversary this year—as a showroom manager in 1992 and moved up to become CEO and co-owner.
Read More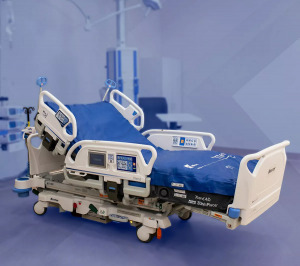 The operation's primary factory and administration remain in Batesville, where more than 900 people work.
Read More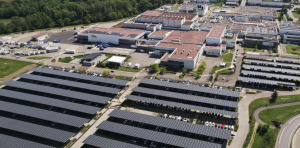 The solar structures are designed to help generate power for the company and reduce its carbon footprint.
Read More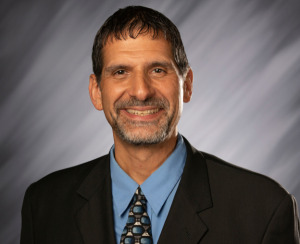 A polarizing figure, the former Indiana representative attracted controversy for his graphic protests of abortion and for statements he made about Catholics and Muslims.
Read More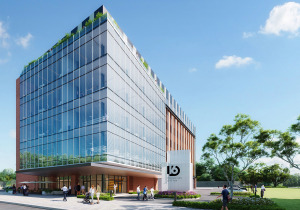 Pre-leasing has begun on two buildings planned for the entrepreneurism-innovation district: a 100,000-square-foot laboratory building and a 40,000-square-foot office structure that would be dedicated to sports- and health-focused tenants.
Read More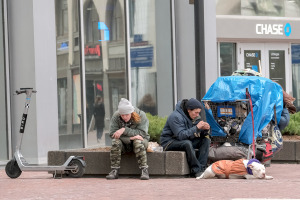 The purchase consists of three parcels and was made in partnership with Indianapolis-based not-for-profit Rdoor Housing Corp. (formerly Merchants Affordable Housing Corp.), an affordable housing developer.
Read More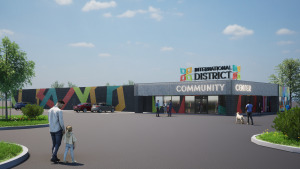 The nearly 15,000-square-foot building, about two miles south of the new Window to the World project along Lafayette Road, will be called the International District Community Center.
Read More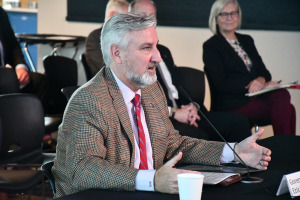 Indiana Gov. Eric Holcomb's comments came following prepared remarks he made to the Bipartisan Commission on Biodefense, a group focused on state and local efforts to strengthen public health and defenses to biological threats.
Read More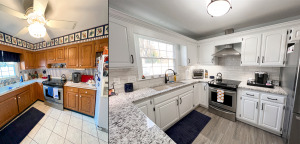 Repainting cabinets is the most common option and the one usually preferred by interior designers and real estate agents for modernizing a home and maximizing the return on investment at resale. But leaving them alone still might be the best choice, depending on your goals.
Read More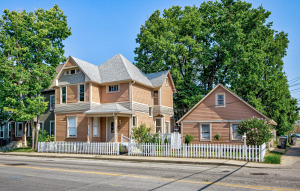 When Vince Peiffer and business partner Phil Carrao purchased the house at 640 E. 10th St. last year, it was in poor condition. All the floors were out of level, structural problems in the basement had to be addressed, and the siding was falling off. The two purchased the Chatham Arch neighborhood home, built in […]
Read More
The move is good for the businesses—including the City Market, which will be undergoing its own transformation—around the City-County Building, and it's also good for Indianapolis residents, who shouldn't have to visit multiple locations to complete city business.
Read More
Nearly 70% of Swiss high school students are enrolled in a paid apprenticeship program starting at age 15 or 16. This experience develops important skills, such as time management, teamwork, problem solving, accountability and reliability.
Read More
With billions of dollars in projects in process or on drawing boards, it's estimated that Indiana's construction workforce alone will need to grow to 275,000 workers by 2026, up from about 164,000 now. We shouldn't ignore half of our population as we seek to meet that need.
Read More
When I started thinking about running for mayor in Zionsville, I asked a political friend if I should do it. He told me to define my "why" in 10 words, and if I couldn't do it, I shouldn't run. My 10 words: "I want the town we all love to do better."
Read More
As leaders think about the challenges they face with real estate, they simply cannot compartmentalize it as separate from their workforce. In fact, they cannot separate it from other factors like technology, HR policies and company culture.
Read More
There is still confusion about when you need to start your required minimum distributions, how they are calculated and how to take advantage of a tax-free distribution.
Read More
We often look at past practices with disgust, but future generations will probably feel the same about some of our choices.
Read More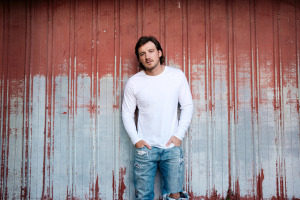 Riding high on the back of his No. 1 country single "Last Night" and a couple of rising hits, Wallen has extended his current "One Night at a Time" tour to include 10 dates in 2024.
Read More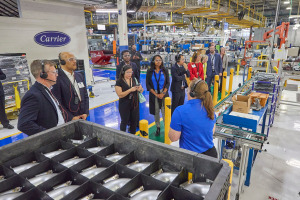 The facility is designed to help address the what the industry expects to be a national shortage of 400,000 HVAC technicians by 2033 that would significantly hamper the installation and maintenance of HVAC units across the country.
Read More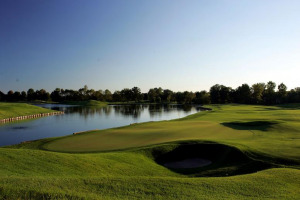 The stop in Carmel marks the course's first time hosting the Senior in nearly 20 years, and seventh time the course will host a USGA championship event.
Read More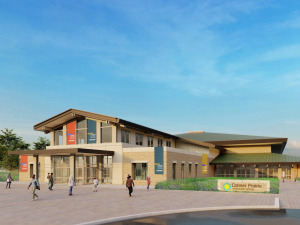 The project will give the building a new name, the Museum Experience Center, and add immersive exhibit spaces.
Read More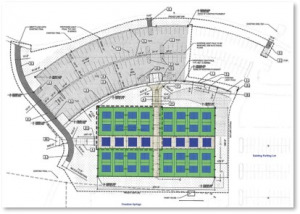 The Greenwood Parks & Recreation Department plans to add an additional 120 parking spots at Freedom Park to accommodate pickleball and aquatic center visitors.
Read More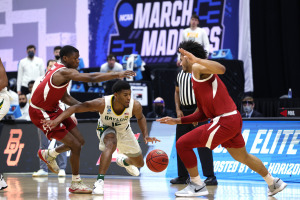 "Not a month next year is going to go by where we don't have something significant happening in our city from a tourism perspective, whether that's a large annual conference that's coming back, or something new," said Chris Gahl, executive vice president of Visit Indy.
Read More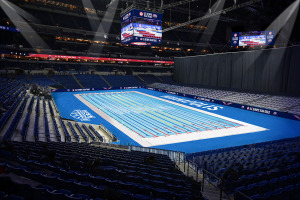 Next summer, the U.S. Olympic swimming trials will be held in an NFL stadium for the first time. In June, fans will flock to Lucas Oil Stadium to watch the nation's finest athletes compete for the chance to go for the gold in Paris.
Read More