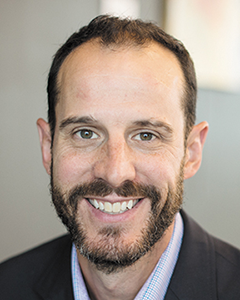 Jeff Wells, MD, the CEO and co-founder of Marathon Health, recently discussed his company's unique model of care with the IBJ Custom Content team. Marathon Health is a modern health company that specializes in delivering advanced independent primary care for employers throughout its network of onsite, Network and virtual health centers. Wells, who earned his MD in internal medicine from Indiana University, was president and co-founder of OurHealth, which merged with Marathon Health. He is the former director of Indiana's Office of Medicaid Policy and Planning.
What led you to create a health care model for employers?
More than 156 million Americans get health care through their employer. The experience for most of them has been fractured, expensive and resulted in a poor outcome. In what other sector would you pay more every year and get less? People deserve a health care model that's easier to access, costs less and drives better health outcomes.
We've achieved that with our Marathon Health Network, onsite, near-site health centers and virtual care teams, which are located where employees live, work and shop. They're typically free for employees and their families to access because employers offer them as part of a total rewards package. The health centers are staffed with world-class doctors, nurse practitioners, nurses, health coaches, behavioral health counselors and physical therapists.
Our advanced primary care model increases patient access, reduces wasteful procedures and drives better health outcomes—the three biggest contributors to our currently broken system. We've proven a positive impact for hundreds of employers in 43 states across the country, and now we're focused on scaling it.
How is Marathon Health different from other companies that have attempted this?
I'd highlight the relationships our care teams build with their patients. Compare the 30-minute appointments with us to the six minutes they'd spend in a hospital or urgent care setting. You can't treat diabetes or figure out why a patient is depressed in six minutes. That type of turnstile medicine has produced sicker, more frustrated patients and unfulfilled providers.
The relationships we see are life changing. Patients notice the personalized approach, and often remark how they truly feel listened to and heard. It directly makes a difference in the outcomes. One of our providers recently told me, "This is the way I always hoped I'd be able to practice medicine."
Value-based care is a popular buzzword. What does it mean at Marathon Health?
We're willing to put skin in the game. We reward our providers for better outcomes, not volume. Our value-based care contracts tie employer-defined performance guarantees to how we get paid. We're willing to take risk on every deal—and we're happy to do it because our model works.
One of my favorite examples of this is our relationship with the City of Indianapolis, which joined us in 2015. By 2019, we had returned $10 million in savings that the City could reinvest in efforts with a higher yield. On average, our clients see a savings of $2,000 annually for each employee who uses Marathon Health. To date, we've saved our clients more than $1 billion.
$1 billion in savings is a big number—how'd you do it?
The biggest driver is better management of chronic conditions. Eighty percent of an employer's annual health spend is driven by 20% of their population—people with a high-risk or chronic condition.
While every employee is eligible to visit our health center, we have an intense focus on driving repeat engagement with those 20% because that's where you can impact the spend and the health outcomes. More than 50% of those high-risk individuals engage with our health center each year, which leads to better control of their diabetes, reduced blood pressure, weight loss, etc.
Another big driver is reduced specialty visits. Today, 30% of procedures are unnecessary and those procedures are expensive. Our care teams refer out when needed, and our Care Navigation team will help the patient find an in-network provider that's high-quality and cost-effective—they'll even schedule it for them.
Virtual health seems here to stay. What's your view?
COVID-19 accelerated consumer demand for telehealth by at least a decade. It's a great option, but it can't exist in a vacuum. It has to complement in-person care. It's one more tool to engage a patient in their overall health care journey. To really fix the system, improve the experience and drive better outcomes, you have to build primary care relationships that can tackle the hard stuff, like chronic conditions and mental health. The next puzzle to solve is which visits require in-person and which are best for virtual—getting that mix right will be a huge win, and something we are very focused on.