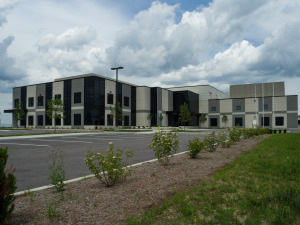 One of the largest pharmaceutical companies in the world has planted its flag in Indianapolis, bringing more opportunity to the region's already rich scientific community and new, potential cancer treatments to patients around the world.
Advanced Accelerator Applications (AAA), a Novartis Company, is putting the finishing touches on what will be its largest facility for production of radioligand therapies, a class of radiopharmaceuticals that target cells overexpressing certain receptors often found on cancer cells.
Construction of the $72 million, 50,000-square-foot manufacturing facility in the Purdue Research Park near Indianapolis International Airport is nearly finished. The facility is situated on 16 acres and designed for future expansion. AAA is scheduled to begin commercial production in 2023 and is actively recruiting to fill up to 60 highly skilled positions to produce its products.
"We believe radioligand therapies are the next breakthrough in the quest to target treatments to cancer cells," said Kevin Haehl, AAA's Indianapolis site head.
The new facility will initially operate with four production lines, but it's expandable to eight and can accommodate 120 employees. It's designed to produce up to 85,000 individual doses a year when fully operational.
Indianapolis was chosen as the site for the production facility after diligent nationwide analysis, and became a top contender due in no small part to the $2.1 billion purchase of West Lafayette-based Endocyte Inc. by Novartis in 2018.
That deal put central Indiana on Novartis' radar and revealed the area's combination of talent and transportation infrastructure to support production and distribution of radiopharmaceuticals.
"Following a highly competitive nationwide search process, we were delighted to select Indianapolis as the ideal location to construct our new, state-of-the-art radioligand therapy production site," said Alexandre Gibim, head of North America, AAA. "When operational, this facility will serve a critical role in our mission to bring this novel form of precision medicine to cancer patients in need of new options for the treatment of their disease."
In developing radioligand therapies, researchers identify a receptor on a cancer cell surface that is overly present compared with healthy cells. Next, they combine a radioactive particle with a targeting molecule that binds to the target cells and damages the DNA, disrupting its ability to replicate, which can lead to cell death but with the goal of limiting damage to surrounding cells.
The therapies will be produced with radioisotopes that have a half-life of roughly 6.5 days and lose about 10% of their effectiveness every day, so getting the medication to patients quickly is essential.
Indianapolis has unique advantages because of its central location and robust logistics assets. It also has a strong talent pipeline. Purdue University has one of the top radiopharmacy programs in the country. Indiana University has a highly ranked chemistry program, and the IU School of Medicine conducts many clinical trials.
All of those advantages have created a significant cluster of radiopharmacy businesses in Indianapolis, making the city a natural choice for AAA.
Haehl said AAA is excited to have a presence in a city with such a deep well of talent and the potential of becoming a global logistics hub.
"It's an environment that is very conducive to supporting high-tech biotechnology industries," he said.
Content provided by Advanced Accelerator Applications, Inc.