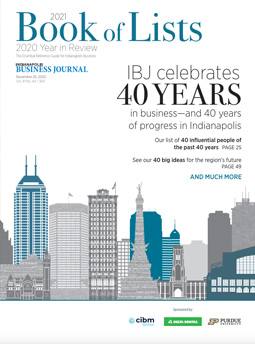 IBJ 2021 BOOK OF LISTS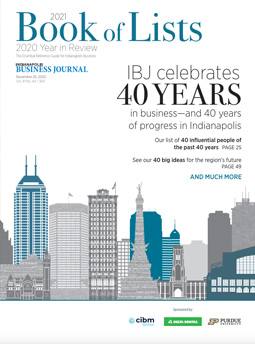 The best of Central Indiana's business news
The 2021 Book of Lists is more than our annual directory of Top 25 industry lists from the past year. It's also a commemoration of IBJ's 40th anniversary and looks back at the growth and changes in central Indiana over the past 40 years. You'll find a list of 40 influential people from the past four decades as well as 40 ideas for the region's future.
Sponsored by




Book of Lists Excel Download
Get extra lists that did not appear in the book and extra companies if there were more than 25.
Book of Lists Early Access
Be the first to get new 2021 lists as they come out!
$100
per year
Regular Price

Download or Purchase Individual Lists
Prices for individual lists are $25 for each Excel or PDF list.

Purchase a Print copy of the 2021 Book of Lists
The bound copy of the 2021 Book of Lists includes 84 lists in 10 major categories.