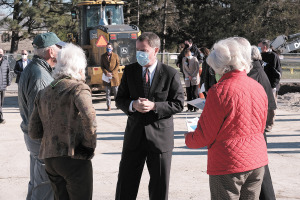 Community officials are hopeful a new east-side housing project focused on young adults aging out of foster care will go a long way in furthering the area's efforts to reduce homelessness.
Hospitalizations due to COVID-19 in Indiana dipped for the first time in almost two weeks, dropping from an all-time high of 3,384 on Wednesday to 3,287 on Thanksgiving.
The conference has canceled five games since play began Oct. 23, but the challenges have gone way beyond that issue.
Despite the change in fortunes, Ascension signaled that it is not yet out of the woods, noting that "consumer confidence and healthcare hesitation as a result of COVID-19 continue to affect Ascension markets, to varying degrees."

The annual Museum Store Sunday event, to be held on Nov. 29, is expected to have extra impact this year because many other sources of museum revenue, including admissions and special events, have been disrupted due to the pandemic.

Owner Adel Elhaj, who wants to boost the image of pre-owned car sales with a tricked-out showroom, plans to reposition his existing Noblesville dealership. He's also about to open a dealership in Elwood.