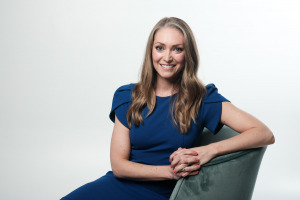 Partner
Taft Stettinius & Hollister LLP
Ann O'Connor McCready said her job is about "solving problems and figuring out how to get my clients from where they are currently to where they want to be." Her litigation practice includes business and contract disputes, complex environmental and toxic tort litigation, intellectual property disputes, product liability claims, and securities litigation. On Jan. 1, 2020, she became a partner.
Getting here: McCready expected to spend her career in public relations and communications. She started in the litigation communication group at a D.C. communications firm and was at a trial in Atlantic City when she realized, "I was far more interested in what was happening inside the courtroom than what I was putting into our press releases." That brought her to law school, then to Chicago to join a firm. After a few years, she and her husband, who is from Indianapolis, decided to move back to Indiana. She worked briefly for another firm before joining Taft.
First job: In a Hallmark store. "I am still an excellent gift wrapper to this day."

Proud moment: Working on high-profile, high-stakes cases. "The one that stands out is an appeal I had in front of the Sixth Circuit Court of Appeals," she said. "The partner I was working with from Taft had been nominated to that court just days before our argument, so he was arguing his very last appeal before that court prior to taking a seat as a judge on the Sixth Circuit. And our opposing counsel was former Solicitor General Paul Clement." (She lost.)
Influential people: Her parents, Joe and Cinda O'Connor. "But when it comes to my professional life, it is hard to deny the influence my dad has had. He is an attorney in Bloomington … and his example really defined for me what it means to be a member of this profession."
Givebacks: Integrating Women Leaders conference organizer; Dress for Success executive leadership team
Downtime: family time, walking on the Monon and in Holliday Park, riding her Peloton •
Check out more Forty Under 40 honorees.
Please enable JavaScript to view this content.