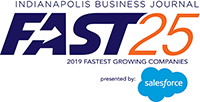 Nominations are now closed.


Nominate a company for IBJ's exclusive ranking of
fastest-growing privately held companies. The top 25
will be featured at a breakfast on July 25 and profiled
in a special IBJ supplement in the July 26 issue.
What are the qualifications?
• Companies must have had revenue increases each year from FY 2016 through FY 2018.
• Fiscal year 2016 revenue must have been more than $1 million and represent a 12-month year.
• Companies must have been founded prior to FY 2016.
• Companies must have been independent, privately held, for-profit corporations,
proprietorships or partnership through December 31, 2018 (not a subsidiary or division of
a parent company).
• Companies must be based in the Indianapolis area (Marion County, contiguous counties or Madison County).
How do I nominate someone?

Nominations are now closed.
What is the deadline?
Thursday, May 2, 2019
Can I contact you to make sure my nomination was received?
Yes, you can email Terry Sowka at [email protected].
When does the section publish?
July 26, 2019