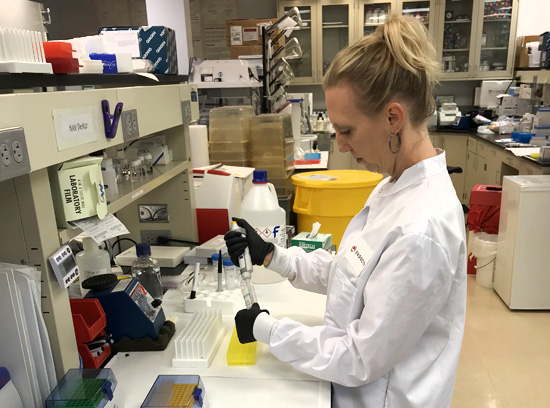 Endocyte Inc., the West Lafayette biotech startup that has been trying to develop "smart" cancer drugs for more than two decades, has agreed to be bought by Swiss pharmaceutical giant Novartis AG for $2.1 billion.
The deal, announced Thursday morning, represents a huge breakthrough for tiny Endocyte, which has about 90 employees in Indiana but has not yet launched a single product. The rich acquisition price, equal to $24 a share, represents a premium of 54 percent to Endocyte's closing price of $15.56 on Wednesday.
Endocyte's lead compound is an experimental drug for prostate cancer called 177Lu-PSMA-617, which it acquired from German chemical company ABX GmbH last fall. The compound is in late-stage clinical trials.
"We are thrilled that Novartis recognizes the potential for 177Lu-PSMA-617 to change the treatment landscape for men with metastatic castration-resistant prostate cancer, as well as the broader role (they) may potentially play in the treatment of cancer," said Mike Sherman, president and CEO of Endocyte.
"The global reach and expertise of Novartis in developing and commercializing RLT therapies will be critical in efforts for patients to benefit from these therapies as quickly as possible," he said.
Endocyte was formed in 1996 from technology from Purdue chemistry professor Philip Low, who was studying how to deliver imaging and therapeutic agents to cancer cells while leaving healthy cells untouched. Initially, Endocyte worked for years to develop the technology as a drug for ovarian cancer, but scrapped after clinical trials came up short. Last year, the company put its entire pipeline on hold to concentrate on the German compound it had acquired.
Endocyte, which went public in 2011, has raised more than $200 million this year in an additional stock offering.
Despite several setbacks, Endocyte has regained huge interest. In the past year, its stock has jumped tenfold, and the company's market capitalization has recently soared as high as $1.5 billion—making it the first Purdue University startup to reach that level.
The two companies say they expect to complete the transaction in the first half of 2019, subject to approval by Endocyte stockholders, antitrust and regulatory approvals. Until that time, Endocyte will continue to operate as a separate and independent company. Neither company said whether Novartis plans to keep Endocyte operations in Indiana in the long term.
The company is based in Purdue Research Park, where it has about 50 employees. Another 40 employees work on the north side of Indianapolis.
Please enable JavaScript to view this content.