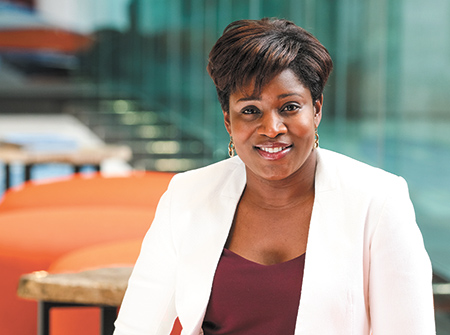 Since Latoya Alexander Botteron came on board in 2010, Central Indiana Corporate Partnership's revenue has jumped from $10.8 million to $17.8 million and staff increased from 39 to 98. The 65-member not-for-profit owns and operates BioCrossroads, Conexus Indiana, Energy Systems Network, TechPoint and other entities. Her work at CICP has included the addition of AgriNovus Indiana and Ascend Indiana as branded initiatives. She also advanced major initiatives and legal entities, including the Battery Innovation Center, the Indiana Biosciences Research Institute, Indiana Innovation Institute and 16 Tech Community Corp.
Education: "For as long as I can remember, math has come easily to me," Botteron said. That interest led to a bachelor's in accounting and business from State University of New York at Plattsburgh and pursuit of a master's in jurisprudence from Indiana University Robert H. McKinney School of Law, with graduation expected in 2021.
Career path: Hired for London-based accounting firm Urbach Hacker and Young's audit department after college, Botteron later moved to Indianapolis as an audit senior for Katz Sapper & Miller, where she worked with distribution and manufacturing clients and handled retirement plan audits. CICP was her only not-for-profit client, and she recalled thinking on her first day auditing it that she would really enjoy working there. "Two years later, in 2010, when the CFO at the time invited me to take the controller role at CICP, I was thrilled," she recalled. She was later promoted to vice president of finance and then, in 2013, to CFO.
Recent business challenge: The increase in headcount has meant expanding and reconfiguring office space. "Salesforce Tower [where CICP operates] has been modified in the last year to be more efficient and better represents a collaborative working environment," she said. "This also results in a significant reduction in cost per square foot per employee."
Unique challenges in her field: "CICP receives major cyclical philanthropic grant funding on a two- to three-year basis, which accounts for a significant amount of operational program funding," she said. "This revenue model makes the long-term strategic planning process unique." The upside? "It's an opportunity for the organization to re-evaluate and revise programming to respondto current challenges that align with its mission."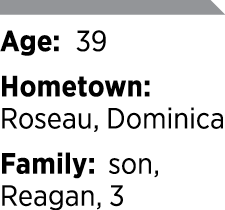 Givebacks: For four years, Botteron served on the board and the finance committee of Leadership Indianapolis, which houses the Stanley K. Lacy Leadership program, and onthe board of Outreach Inc.,which serves homeless youthin Indianapolis.
Downtime: Caring for her son … and her flower beds. "I findthe resulting beauty and colorvery rewarding."
My job would be a lot easierif … "there were more hours in a day. CICP is an impressive organization led by exceptional individuals. That meansthere is constantly a new bigidea to consider. It's truly a success problem."•
Check out more CFO honorees..
Please enable JavaScript to view this content.