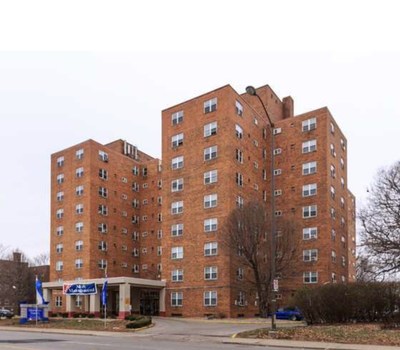 A 195-unit apartment high-rise on the near-north side of Indianapolis has been sold for $11.4 million to an out-of-state development partnership that plans to renovate the property.
Meridian Towers Apartments, 3710 N. Meridian St., was acquired through a joint venture of New York City-based Crown Capital Ventures and Toronto firm Whitestone Capital. The nine-story property was built in 1950 and was sold by Kokomo-based Vernon Graves LLC in an off-market deal.
A $9.4 million loan for the deal, with a three-year interest-only initial term, was financed through Eastern Union, a New York-based firm. The remainder of the funds came from partner equity.
Shia Grunzweig, president and founder of Crown Capital, said the firms—operating as Meridian Towers Apartments LLC, plan to spend about $2 million to improve the property. Updates will include either new or improved laundry facilities, a community clubhouse, a media room and common areas, along with exterior landscaping.
"We're going to bring it up to par with all the renovated nearby properties," he said. "There's a big demand for more of these renovated, more modern, upscale properties, so we're very excited about this opportunity and we have already started the process."
The building's 335-square-foot studios and 540-square-foot one-bedroom units rent for about $550 and $725 per month, respectively. Meridian Towers also has two-bedroom apartments, but a waiting list exists for those units and rents aren't listed.
Investment in the property is likely to mean rent increases down the road, to allow the owners to recoup their money.
Grunzweig said the firm doesn't necessarily have immediate plans to sell off the apartments once they are renovated. Although Crown Capital typically has interest in newer properties, it views Meridian Towers as an opportunity to enter the Indianapolis market, he said.
The firm is already eyeing other properties in central Indiana, he said.
"We're open to both options, but we're looking to grow in Indianapolis and Indiana in general," he said. "We're looking to build a large portfolio in Indianapolis, so we're probably going to look at this as a long-term hold."
Please enable JavaScript to view this content.