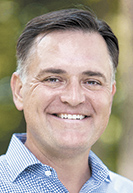 Former U.S. Rep. Luke Messer has left law firm Faegre Drinker to join Indianapolis-based Bose Public Affairs Group LLC, where he will counsel corporate clients in Indiana and in Washington, D.C., on governmental matters.
Law firm Bose McKinney & Evans, parent of Bose Public Affairs, announced Monday that Messer will join Bose as a principal and focus on clients in the business services, labor and employment, and financial services practice groups.
"As we continually look for strategic opportunities to grow, Luke's expertise at the state and federal levels will complement the talented professionals in both our law and public affairs firms," Bose McKinney & Evans managing partner Jeffrey Gaither said in written remarks.
Messer served three terms as the representative of Indiana's 6th District before seeking the GOP nomination in 2018's U.S. Senate contest. He lost that Senate primary race to Mike Braun, who went on to unseat Sen. Joe Donnelly, a Democrat.
In the 6th District, Messer succeeded Mike Pence as a representative and was succeeded by Greg Pence.
He joined what was then known as Faegre Baker Daniels Consulting as a principal in its Washington, D.C., office, in January 2019, advising companies on federal regulatory and policy issues.
Messer previously served as executive director of the Indiana Republican Party and then as a member of the Indiana House from 2003-2006, before joining Ice Miller LLP's lobbying division as a partner in 2006.
Please enable JavaScript to view this content.