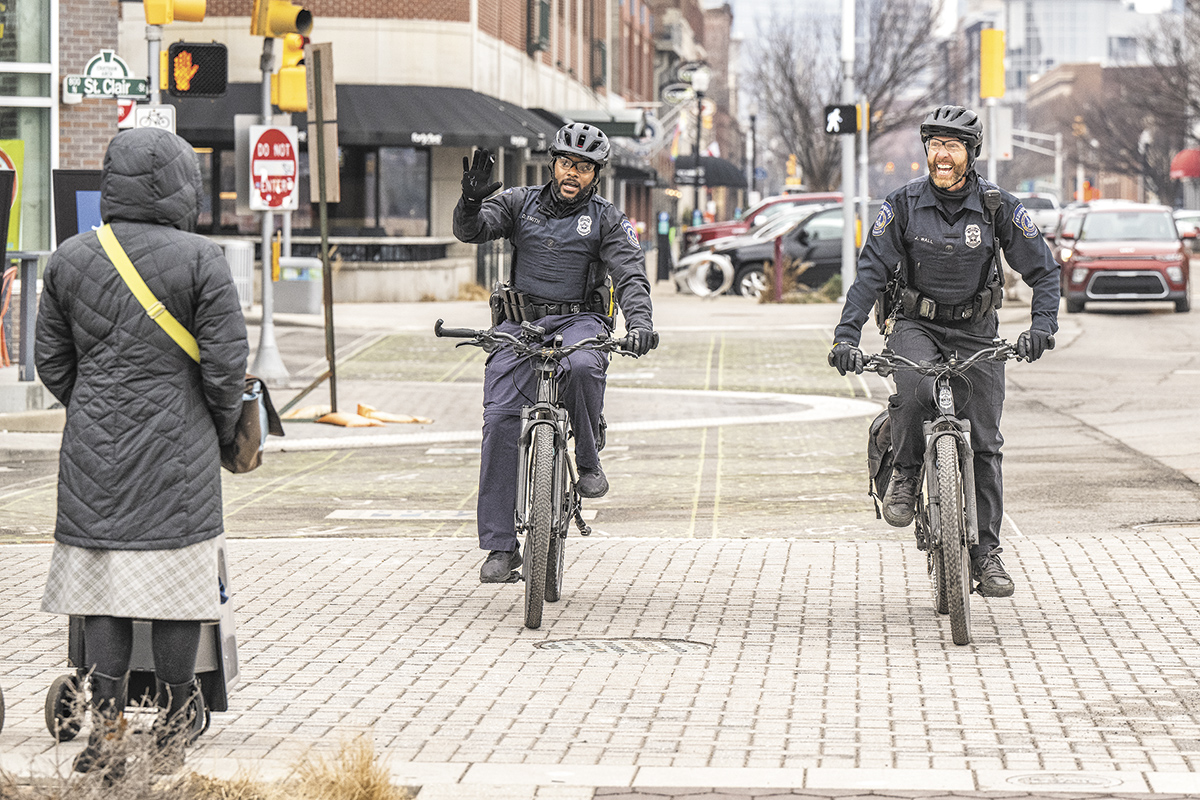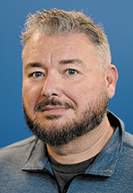 After weeks of worrying about the aggressiveness of homeless people toward his downtown workers, Backhaul Direct CEO Greg Harris had his own encounter.
As he walked toward his office at 1 Virginia Ave. at about 7 a.m. in the summer of 2021, he was knocked on the back of the head by a homeless person for no apparent reason.
He kept walking to avoid a confrontation. But the incident added to a feeling of danger that was a leading factor in his decision to move his logistics company's offices to Fishers.
But just a few blocks west of Backhaul's former offices, Spot Freight remains bullish on downtown, investing nearly $11 million to expand its operations at Meridian and Georgia streets and hoping to continue a hiring spree that began last year.
And while it hasn't all been rosy—employees have reported vehicle break-ins, confrontations with homeless people and twisted ankles due to sidewalk potholes—co-owner Andrew Elsener said he's optimistic about the area's future and its relative safety.
"I think there has become a perception that downtown has struggled coming out of COVID … and I think a lot of that gets way overblown," he said. "There's still a lot of [entertainment and sports] events that go on down here, and it's very rare that something [bad] happens."
The two business leaders' differing responses show how complicated it is to analyze and interpret crime data and incidents and assess the safety of downtown, even among those who routinely traverse the city's central core.
Evaluation is even more difficult for suburban residents, some of whom rarely venture downtown and sometimes wrongly attribute crime elsewhere in the city to downtown—a perception that has been hard to shake even as crime and issues of homelessness associated with the pandemic's peak have eased.
Statistics show that downtown remains among the city's safest places. But city officials acknowledge there's still work to do to improve safety and security.
According to crime data for the Mile Square over the past three years—the only such data available that includes figures for 2022—violent incidents are down from the pandemic peak years of 2020 and 2021 in all categories except robberies, which were up 43%, from 56 to 80.
In the Mile Square, homicides dropped to four in 2022, from six in 2020 and five in 2021.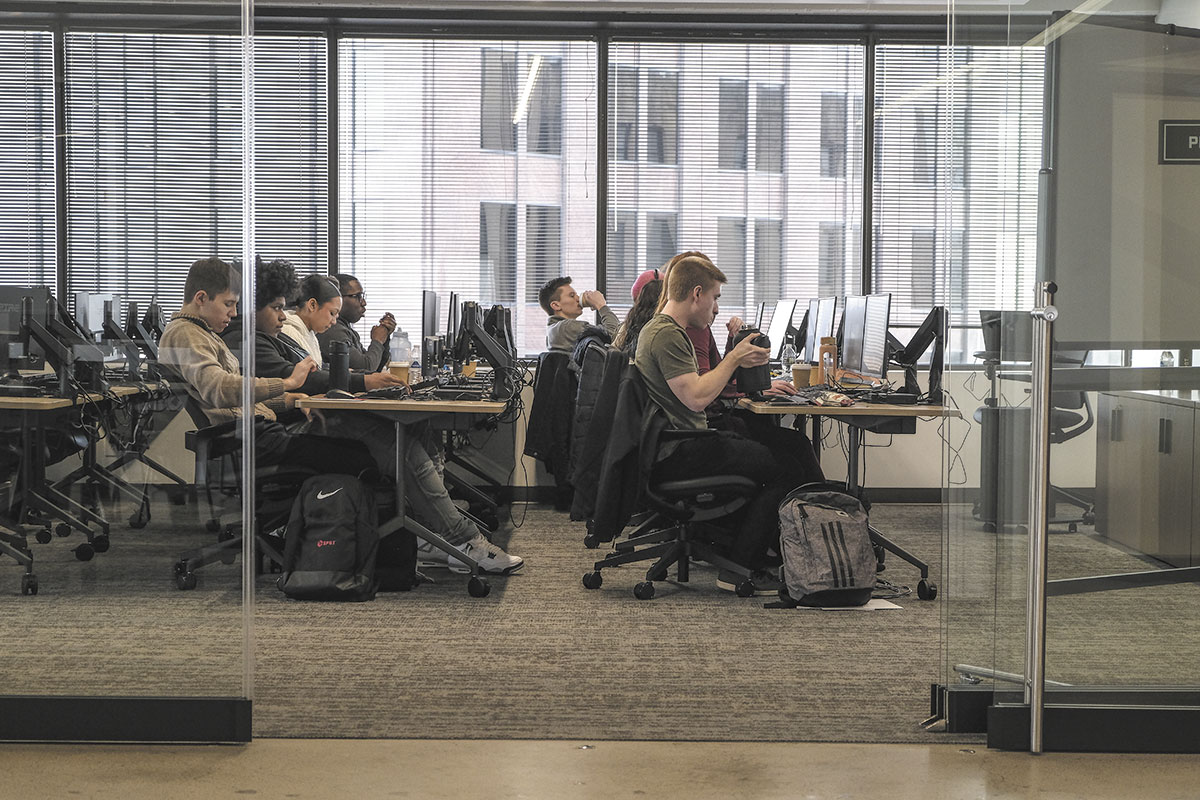 Across IMPD's entire Downtown District, which stretches from 10th Street and Interstate 65 on the north to Morris Street on the south, and from the White River on the west to the I-65/I-70 leg on the east, violent crime as a percentage of all reported incidents increased from 14% in 2010 to 22% in 2021.
IMPD reported 15 total homicides and manslaughters in 2020 and 2021 in the Downtown District, more than it had in the previous nine years combined.
Homicides dropped 16% citywide in 2022, but IMPD has not released a district-by-district breakdown.
"Perhaps the single most important issue that the city as a whole faces is gun violence and crime. That keeps me up at night," Mayor Joe Hogsett told IBJ. "But the truth is that violent crime downtown has decreased over the last 12 to 18 months from where it was, not only in the downtown but citywide, during the years of the pandemic."
Violent crimes such as homicides, rapes and assaults in the Downtown District accounted for 1.1% of the city's overall reported crimes in 2021, according to data from IMPD's federal uniform crime report, which logs significant violent and nonviolent crimes.
That figure has nearly doubled since 2010 (0.6%), although it accounts for the lowest such total across any of IMPD's six districts.
Downtown is also the city's smallest police district geographically, at just 3-1/2 square miles. More than 300 acres of that is state property outside IMPD's jurisdiction. But taking into account visitors, workers and residents, downtown still has the lowest per-capita crime rates of any IMPD district in the categories analyzed by IBJ, including homicides, other violent crimes and non-violent crimes.
"I want to be clear, that these statistics are not presented as a means for us to abscond ourselves from a responsibility of the feeling and perception of safety in the downtown area," Deputy Chief Joshua Barker told IBJ. "That is a big part of our job—the presence, the selling [of] a sense of a nurturing environment that allows a sense of community and safety within this jurisdiction."
While statistics generally support city officials' claims that downtown is safe, the numbers have done little to quell negative sentiments about the area, as media images of protests and a rising homeless population during the peak pandemic years remain fresh in the minds of many central Indiana residents.
That has left city leaders with the difficult task of trying to entice more suburbanites back downtown while waiting for the gleam of billions of dollars in new housing, office, health care and entertainment projects to come together.
Safety concerns linger
Bill Acklin, a manager at Roche Diagnostics on the northeast side of Indianapolis, said he doesn't go downtown often because he's concerned for his safety. Since 2020, he's been downtown only a few times each year, for major sporting events and some family get-togethers during the holiday season.
He said he believes downtown was safer before the pandemic than it is today, and he isn't comfortable spending more than a few hours at a time in the city's center.
Acklin, 63, said that, aside from crime, he's also had problems with scooter riders using the sidewalk and nearly striking him or his wife, leading to confrontations. By law, motorized scooters are required to be operated only on the street, but many riders still use sidewalks to avoid interacting with vehicles.
Before the pandemic and the rise of scooter traffic, the couple had even considered making downtown their home, before landing on the far-north side.
"We decided against it [because] we found a good value near Geist, which is where we're living now," he said. "In retrospect, I'm really glad we did because I just don't know that we would feel safe downtown. And when I say that, I don't want to sound too dramatic. … It's just a conscious choice to not put ourselves in those situations."
Jill Mendoza of Indianapolis works downtown one to two days a week, which is less than before the pandemic. She used to come downtown as well to eat and go to social events. But she also said downtown feels less safe now—and the drumbeat of news about crime doesn't help.
"I once walked with my grandkids on the canal during the lunch hour, but we have not come downtown for a day or evening event since May of 2020 [when cities across the country experienced both peaceful protests and riots after the police killing of George Floyd in Minneapolis]," she said. "When the everyday news is filled with stories of crime, homeless people and shootings, it makes you just want to stay home. For us, downtown is no longer a destination."
In an IBJ online reader survey, more than 70% of people who live outside Marion County said they had an unfavorable or very unfavorable view of downtown safety. That's not a scientific measurement, as people with strong opinions might be more likely to respond to a survey.
But the comparison with respondents who live elsewhere is interesting. About 55% of people who live in Marion County but outside downtown have an unfavorable or very unfavorable view of downtown safety. Among downtown residents, 28% share those feelings.
Doug Stephenson, co-owner of Downtown Comics, 11 E. Market St., lives in the New Palestine area and said the view from outside Indianapolis is that downtown "is just some kind of dystopian hellscape" with regular shootings and constant danger. "People tell me they're never going downtown again," he said. "They think we're here fighting off the homeless every day."
Stephenson said he tries to explain that the homeless situation is not as significant as it was early in the pandemic and that it's safe to come downtown for meals and entertainment.
"Let's not forget, this is a city of a million people," he said. "So the experience is different than in downtown Carmel, downtown Plainfield, the downtown Greenwood experience. [Indianapolis] feels more like a city. You've got some city issues … but we're taking care of those issues."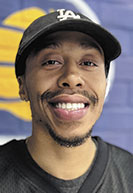 Kind Butler, a Broad Ripple resident and vice president at diabetic supply company A1C Care Center, said he generally feels safe walking around downtown, any time of day.
"I was down here during the pandemic and even the riots—I saw where it was destroyed and when it started coming back, and downtown Indianapolis is doing really well, I think," said Butler, who was downtown for a recent Pacers game. "I like our police force. … They do their job very efficiently, and I feel safe."
Business owners such as Greg Bires, who operates Windsor Jewelers near Monument Circle, and Mike Cento, of Cento Shoes, each said they've moved past their perceptions of the state of downtown in the immediate wake of the 2020 protests, even after having their own stores ransacked in the chaos.
"That's behind me now," Bires said. "I don't lay awake at night worrying about that happening again, because I don't see us going that direction. I see us going in a better direction."
Still, he said, rebounding is "taking a lot longer than anybody ever imagined. Everybody thought, 'A year, we're back to normal.' But downtown got so upside down that it just seems like … it's just taken forever. But being here every day, I see a lot of positive things."
Bires acknowledged that homelessness and drugs continue to be challenges, with both seeming to be worse since the pandemic began. He also said that having more police on the streets would go a long way toward improving the perception of safety for most visitors and even downtown residents—a sentiment shared by many others with whom IBJ spoke or who answered the IBJ survey.
"If the city works on anything," Bires said, it should be on increasing the officer count and reducing homelessness and drug use. "I don't know how they're going to do it, but they need to. That's probably got to be their number one goal, so when people come down here, it's a non-issue as far as safety is concerned."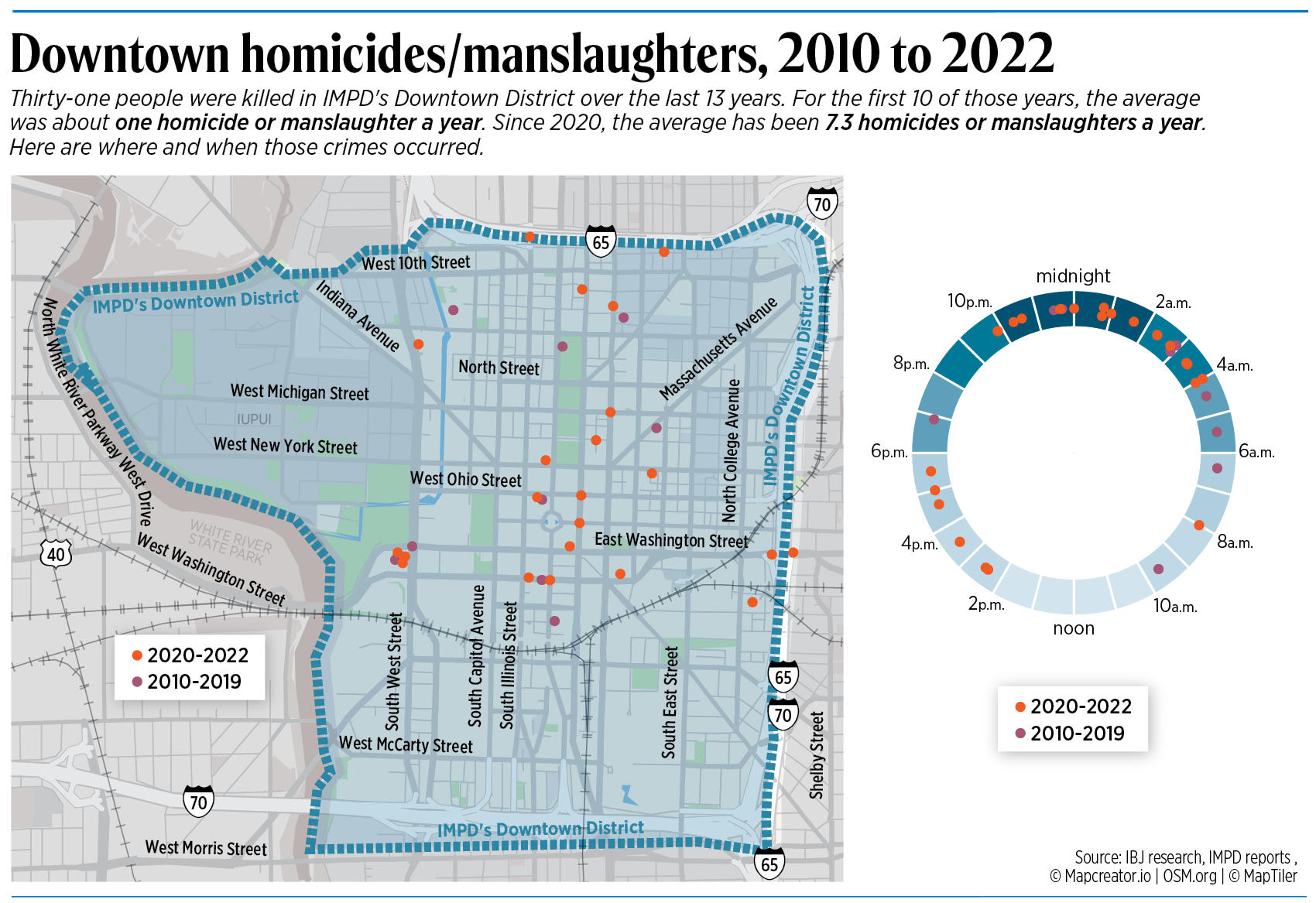 Finding solutions
IMPD has a budget of $313 million for 2023, more than 20% of the city's total spending plan. It isn't known precisely how much of that will be devoted to the Downtown District, which employs nearly 90 officers.
"Right now, staffing is a challenge across the profession, not just Indianapolis," IMPD's Barker told IBJ. "All of our focus is recruiting and retention."
And Barker said the city is "constantly looking at how we leverage shifting resources … from different areas of the department to be assigned to [downtown] to meet the needs of the population at a given time."
The Indiana Capitol Police, which is authorized to have 60 officers, had only 31 in early January, leaving many state-owned properties like the American Legion Mall and the Government Center Campus severely undermanned. Legislation introduced this year would try to remedy challenges in attracting state troopers to the force, specifically through increased pay.
Indianapolis officials often point to Hogsett's three-year, $150 million anti-violence reduction strategy as a sign of progress on the crime front, although it's not clear how much was allocated to downtown as part of the effort. Last fall, the city authorized $3.5 million for downtown specifically, with a goal of implementing safety and cleanliness programs over 18 months.
The efforts include new IMPD initiatives like increased overtime shifts for bike patrol officers and a $75,000 mobile security cameras grant program for small to midsize businesses to tap into the IMPD b-link program, which forms a network of nearly 120 security cameras and 22 license plate readers.
"One of the ways that downtown has always sought to address public safety is by being creative," said Taylor Schaffer, president of civic group Downtown Indy Inc. "For the same reasons that people enjoy the connectivity of downtown, the same type of infrastructure can really be leveraged for technology utilization. There has been a level of accountability that has been afforded [on downtown criminal activity] … in part because of those investments in technology."
The city has also launched a 24-hour, clinician-led response team for individuals experiencing temporary or chronic homelessness. The team will coordinate with Downtown Indy Inc., which plans to work with service providers to hire social workers and other support staff.
The initiative coincides with other ongoing city and not-for-profit efforts to develop permanent housing solutions for homeless individuals and families, including the eventual establishment of a low-barrier shelter.
Likewise, there's been a renewed emphasis on more challenging public-safety areas— like the 200 block of South Meridian Street, where several late-night bars are located—to mitigate potential violence.
Hogsett said he is confident that, as the city continues addressing crime, and as more people begin to spend time downtown post-pandemic, negative perceptions "will evaporate."
"I think more and more people who revisit downtown will come to regard it as they did pre-pandemic," the mayor told IBJ.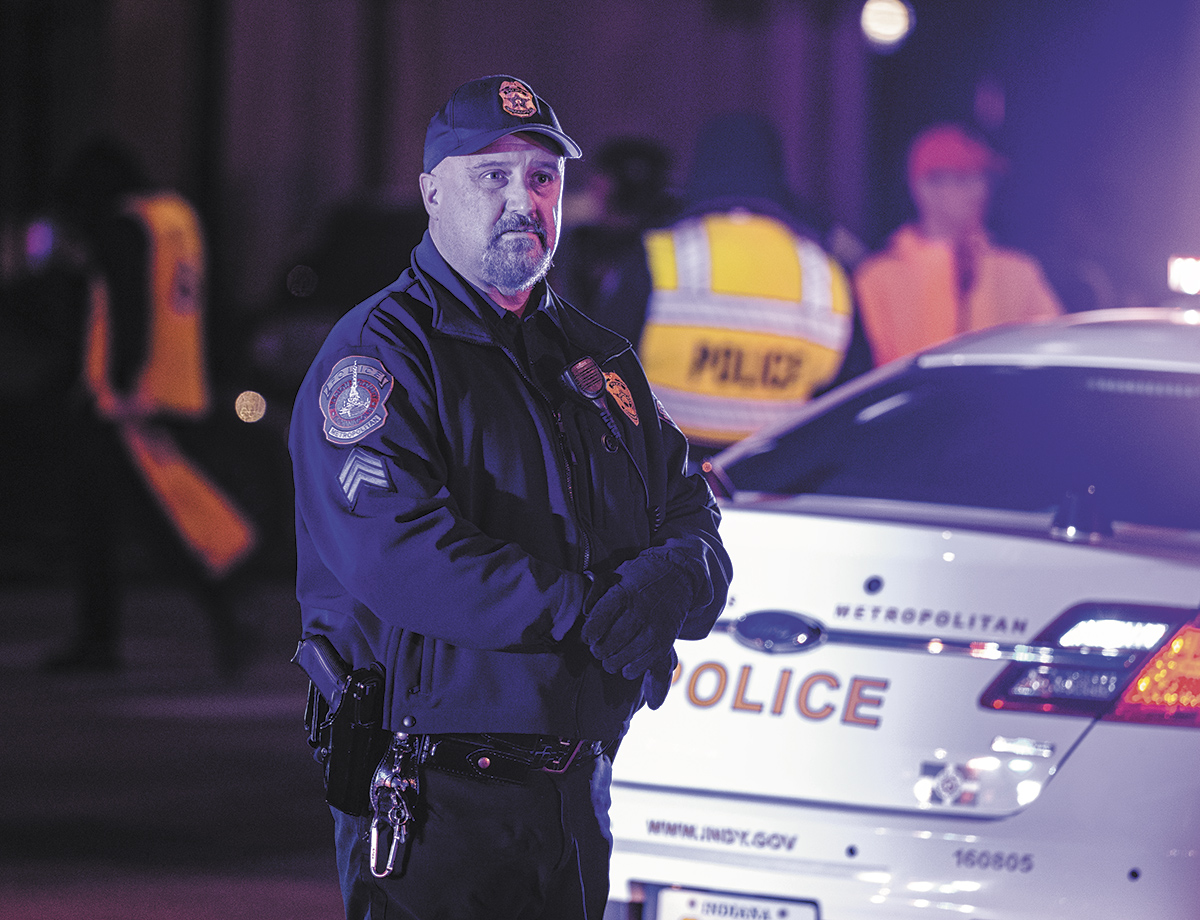 Rarely a factor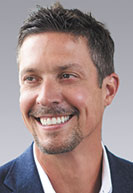 Rich Forslund, an office broker with the Indianapolis office of Toronto-based Colliers International, said crime is rarely a key part of the conversations he's having with prospective office users—whether they're moving between spots within the city's central business district or trying to make a move to downtown from another part of the region.
"It's part of the discussion and something that folks talk about here and there, but I'm not hearing a lot of people wanting to run out of downtown right now for the sake of crime. That's not consistent feedback that we're getting."
Groups such as Downtown Indy Inc. view themselves as playing a major role in turning the tide on negative perceptions of downtown, particularly over the next several months.
Schaffer pointed to a need to create great experiences for every person who comes downtown so they can share that with others who might be more reluctant to venture out.
"It's about, how do we ensure that those people—whether it's because they're here for fun or because they're returning back to the office with more consistency than they have in the last couple of years—have the best experience possible?" she said.
For Harris, the Backhaul CEO who moved his company out of downtown, the city still has lots of work to do to accomplish those goals.
"I don't think that [downtown] is beyond fixing at all," he said. "But I think they need a different plan. If you're a part of that community, you have to be a part of the solution. You can't just sit back and complain—someone has to step up and be a leader. Look, that's a tall order and it's certainly not for me, but maybe someone with some sort of aspirations."•
Please enable JavaScript to view this content.