Amelia Dieter McClure was hired in December by the Hoosier State Press Association, the trade association that represents 142 newspapers in Indiana, as government relations specialist and future executive director and general counsel. She spent the legislative session working alongside current executive director and general counsel Steve Key, who will retire in May.
Before taking the job with HSPA, what were you doing?
I was the assistant director for government relations and compliance at Indiana University. I had been there for about three years, and my biggest policy focus area was actually health—dealing with all the different health science schools.
I came from another lobbying job with a health care provider before that. … It's a separate passion of mine. I really enjoy it and it kind of falls into the same realm of how I feel about journalism. I think, you know, that pursuit of happiness. Health care is kind of a fundamental to that.
Tell me why you were interested in the HSPA job.
Being at the Statehouse and working on legislation that's going to directly affect the ability of journalists to do what they do and our access to public records and open-door meetings to see how our government works was exactly how I wanted my career to go and how I wanted to be able to preserve democracy and succeed at making our city, our state and our country a better place.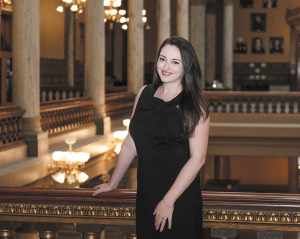 Why are you so passionate about the newspaper industry?
My mom [Mary Dieter] was a reporter when I was born, and she was already [working] at the Statehouse. Steve Key likes to say it's in my blood. I had an interest in it for my entire life.
What are some of the big issues facing Indiana's news industry right now?
The biggest issue is obviously the progress into online—print versus online. I saw it a lot this session, actually. The appetite for news is there. People want to know things.
We see that with the coverage of COVID. That local news got such an infusion because they were the ones that were delivering the information on COVID directly to people that didn't have any other way to find out about it. … That was a really good reminder for people how important local news is, but I think there's this misconception out there that newspapers … are old-fashioned, they're not moving forward. And that's really not true.
What is your vision for HSPA under your leadership?
My vision is to engage our membership and develop it into something that is an active part of their day-to-day process.
I think now it's time that we utilize the association for reshaping the industry in a way that is going to benefit all of our members. We could be seen as shepherds through this digital transition and start tackling the new ways to run newspapers.
It becomes this body of groups that is not just the association where you meet and have representation at the Statehouse, but where you exchange ideas, where you support each other, where you can come and find resources that are going to help you maintain into the future.•
Please enable JavaScript to view this content.