About four years ago, Cory O'Sullivan opened a small vinyl-record kiosk in a Franklin bakery.
With the increasing resurgence of vinyl sales, Electric Key Records has grown into a full-fledged business of its own in a downtown Franklin storefront at 65 E. Jefferson St.
Here are some of O'Sullivan's insights into the record-store business, the vinyl resurgence and the habits of record buyers.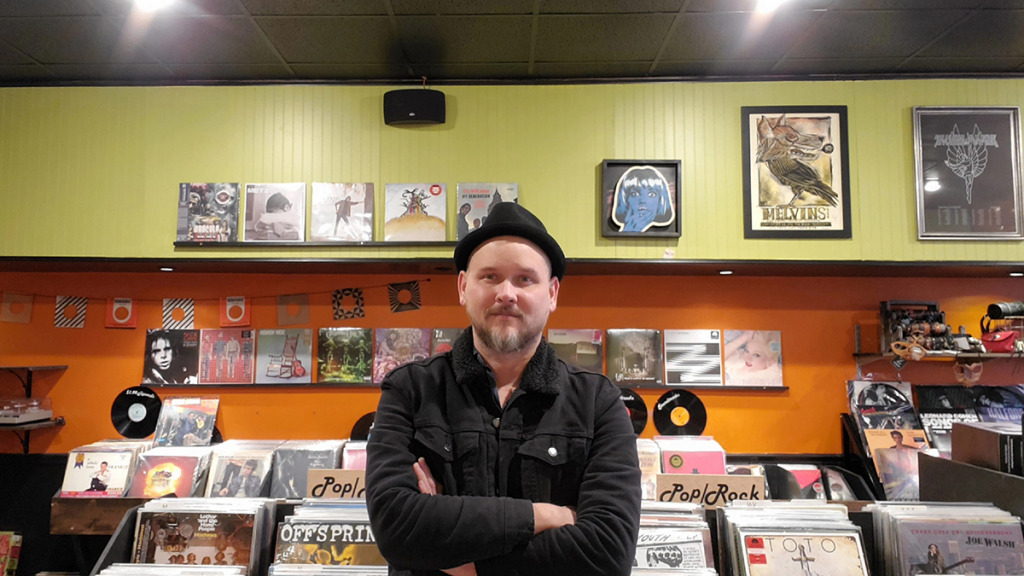 What made you decide to open a vinyl record store?
I've always been self-employed [as a contractor for utilities]. But the way that my real job operates, I don't get to socialize [at work]. I don't have co-workers really with me most of the time, but this seemed like a perfect opportunity to incorporate one of my favorite hobbies and my social life. So, it worked out perfectly.
You expanded rather quickly to a larger space. What have youfound that it takes to make a record store successful?
I think it's a two-part recipe. [You've] got to have enough [inventory] that everybody has something to find. But you also have to have a niche that gives your store a unique identity. … My thing is, we have the Artcraft Theatre here in town. And we like incorporating movie soundtracks into our inventory quite a bit. … The Artcraft gives us a larger net to cast because [it attracts] people from all over the country—the world, really. … The biggest sponsorship opportunity is having your name on the marquee [to present a movie]. … We did the sponsorship for the Talking Heads' "Stop Making Sense."
In addition to selling new pressings, you buy and resell used records. What can people get for record collections gathering dust in their attics?
I would say, gauge the value of a collection by how well [the records] were kept. Yeah, condition is everything. You can have the most middle-of-the-road collection, but if it's been kept well, you're going to probably get paid pretty well for it. If you have a collection that you've kept in a garage outside where [the records have] melted, you're not getting anything.
When it comes to vintage records, what artists do you find are in the most demand?
When "Bohemian Rhapsody" [the movie] came out, Queen was the biggest one. I could not keep that on the shelf. … Elton John is still kind of huge. And if you have a Pink Floyd album, an original early press of it, that's huge. And Electric Light Orchestra when "Guardians of the Galaxy" came out. They got big.
What do you think rekindled the interest in vinyl records?
Around 2005 … is when our music stores were just gone. There was no more flipping through [to] see what you could find. So, people my age started finding records at antique stores for next to nothing, right? And it kind of satisfied that urge. … That pastime that we always enjoyed being taken from us, and then we had to find a way to do it again. And records became that thing.
What flipped the switch for you?
I was at an antique store, and there was a copy of [Pink Floyd's] "Dark Side of the Moon" sitting there. And even if I wasn't going to listen to it, I thought it was neat. I thought it was, like—well, look at it. I mean, it's such an iconic cover. I would just frame it. And that album made me go buy a record player. And then the next weekend, I wanted to go look for records again.•
Please enable JavaScript to view this content.