Klipsch Group recently dispatched an executive to Scottsdale, Ariz., to grab more shelf space in Microsoft's new
retail stores for its line of earphones.
Indianapolis-based Klipsch, long known as a maker of high-end speakers,
didn't come up with its first earphones until two years ago. But CEO Fred Klipsch is determined to make the brand as
recognizable to digital music consumers as to audiophiles.
"We will outpace the competition that's
been there for years," Klipsch said. "When we get into a product category, we will take our share of the market."
Klipsch Group won't reveal its exact position in the highly competitive earphone market, but says it's
enjoying brisk sales of its moderately priced Image models. And it's basking in the glow of positive reviews. CNET,
the leading personal technology review site, gave Klipsch's $79 Image S4 the coveted "Editor's Choice"
label.
On the road from Scottsdale, Don Inmon, director of product development in the personal audio division,
said he fully expects Microsoft to expand its Klipsch offerings. The earphones already are available in Apple stores.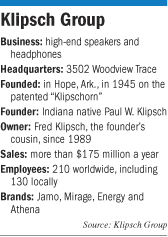 "It's the best headphone under $300, period, on the market," Inmon boasted. "Until somebody
tops that, it's going to give us legs for a long time."
The only financial information the closely
held company will report is annual sales in excess of $175 million. It is clear, however, that Klipsch needs to adapt to a
market that revolves around Apple's iPod and, increasingly, the iPhone.
"Portable audio is the way
most people listen to their audio now," said John Laposky, managing editor of trade publication TWICE, formerly
This Week in Consumer Electronics. "[Headphones] happens to be a category everybody is jumping into right now."
Almost half, 47 percent, of all U.S. households own one or more mp3 players, according to the latest market
data from the Consumer Electronics Association.
Makers of mp3 players will sell an estimated 40.7 million units,
valued at $5.2 billion, this year. Those numbers are off their peak of 48 million units sold in 2007, but smartphones could
make up the slack.
Smartphones, led by Apple's iPhone, combine the phone and music player on the same device—thus
reinforcing the demand for earphones. The Consumer Electronics Association predicts smartphone sales will hit 38.3 million
units in 2010, up 24 percent from an estimated 30.7 million units this year.
Klipsch has traditionally served
audiophiles who will drop thousands of dollars on home speakers. The recession hit consumer electronics hard, and Klipsch
was not immune. The company let go an undisclosed number of people locally and worldwide in a January restructuring.
The restructuring added Indianapolis jobs, leaving local employment at 130 and worldwide employment at 210. Most of
its manufacturing is done in China.
Shifting focus

Klipsch
Making money in earphones will require higher sales volumes, but Klipsch
thinks there are plenty more consumers left for his company to tap.
"For every family
that will buy a $3,000 or $4,000 home theater system, there are thousands of individuals, down to 12-year-old
kids and 80-year-old guys … that will buy headphones.
"Its impact on our gross sales will be a double-digit
impact," he said. "It's not insignificant what this market will do for us."
In fact,
Klipsch sees earphones, iPod docking stations and computer speakers becoming a large part of the business—as much as
50 percent in five to 10 years.
"All we're really trying to do is provide products to every demographic
group," he said.
To an audiophile, digital music players are anathema to Klipsch's roots in high-fidelity.
The players tend to sound tinny because they transmit compressed files.
Inmon said he foresees a day when consumers
have so much bandwidth and hard-drive capacity at home that digital music will achieve a quality that's worth broadcasting
throughout the house on multiple speakers. At that point, he hopes the iPod generation will think of Klipsch.
"It certainly makes sense to build the brand that way, in addition to the product line," said Dave Arland, a former
Thomson Consumer Electronics executive who owns a public relations firm in Carmel.
But Arland isn't convinced
consumers will go back to home audio systems, much less high-quality ones.
"What's unknown is whether
in 10 years people will trade up to buy speakers. Who's to say what's going to happen in 10 years?"
Gary McCormick is one audiophile who hopes Inmon is right. Klipsch is a top-selling brand at his three Ovation audio-visual
specialty stores in suburban Indianapolis. But this year he's sold just one set of the company's top-of-the-line
Palladium speakers, which cost $5,000 to $20,000 a pair.
"Right now, there's definitely a tendency
to mediocrity, if you will," McCormick said.
Culture change
Most iPod users
didn't think twice about abandoning their home stereos. The transition was a tad more difficult for Klipsch.
The company rolled out its first docking station and speakers for the iPod in 2005, but the first earphones didn't
come until November 2007.
For people at Klipsch, earphones required a whole new way of thinking, senior acoustic
engineer Mark Blanchard said. Sliding a tiny earphone directly into the ear canal is a very personal way of delivering sound,
he explained.
"It's almost like a piece of jewelry," he said.
President Mike Klipsch,
son of the CEO, wanted to be in the earphone game more than four years ago, but, as Inmon said, "We had to find a way
and find a technology that we could put our special recipe on."
The one area designers seemed to have overlooked
was the earpiece itself. Blanchard was researching the internal components when he met an audiologist at Sonion, a Danish
company that makes parts for hearing aids.
The audiologist took impressions from the ear canals of several Klipsch
employees for Blanchard to study. He noticed that most, when viewed as a cross-section, had a vertical oval shape. Most in-ear
headsets, meanwhile, were round, which put too much pressure on the outer walls and explained their reputation for burning
discomfort.
Blanchard, also known as "Dr. Thump," expects to receive a patent on Klipsch's
oval-shaped ear tip.
Klipsch says its earphones fit well enough to block out all kinds of ambient sound. Tom
Gospel, program director in the personal audio division, said he could see the effect immediately on test subjects.
"You could tell they got a good seal, first of all, because they started speaking very loud," he said.
With the noise-reducing claim, Klipsch positions its tiny earphones alongside pricey headsets that use electronics
to actively cancel ambient noise. Noise-canceling headphones, made by Bose and others, are a favorite among frequent air travelers.
Saved by the tweak
The first Klipsch earphones debuted in a typical high-end niche.
Blanchard

At $339 to $349, the Image X models cost more than most mp3 players. Unfortunately, the release coincided with the worst
recession since World War II.
Klipsch quickly tweaked the Image and by April rolled out the $79 S4.
"We cannot build them fast enough," Gospel said.
Then Klipsch added a microphone and three-button
remote, functions that cater to Apple's iPhone. The Image S4i also works with the voiceover function on the latest iPod
Shuffle.
In the ultra-crowded earphone market, Klipsch does not have a large presence, Laposky said. But the
fact that Klipsch has won Apple's seal of approval bodes well for the future.
Apple doesn't have
the retail presence of Best Buy, but it's influential because it allows a limited number of products into its stores.
"There's cache in that," Laposky said. "That's Klipsch's audience right there,
tech-savvy people."
Please enable JavaScript to view this content.