Not many people can say they're directly responsible for earning millions of dollars every year for their employer.
Tom Griswold and Bob Kevoian can. And they have the numbers to back it up.
The iconic radio-show hosts
have been the financial foundation of WFBQ-FM 94.7 since not long after they went on the air with "The Bob & Tom
Show" in 1983. And now they're more important to the station than ever.
As the rock genre has aged
and the radio industry has struggled, the audience for WFBQ's other programs has eroded, but Bob and Tom have maintained
their lofty ratings.
"WFBQ has really become two different radio stations," said longtime local media
buyer Bill Perkins. "They're an outstanding station during 'The Bob & Tom Show' and a very ordinary
station all other times."
The duo's continued popularity means they now account for a larger portion
of WFBQ's revenue. Station officials said about 40 percent of the station's revenue comes directly from the show.
Radio business experts say that's conservative. They estimate the show accounts for up to three-fourths
of station revenue when looking at all the benefits the show's brand brings the rock station.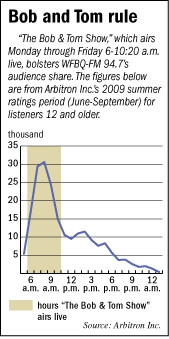 "'The Bob & Tom Show' is a marquee product, and even in this economy, advertisers
are willing to pay a premium to be on the show," said Sue Doron, media director for EchoPoint Media,
Indianapolis-based ad agency Young & Laramore's media buying arm. "I don't know
of any other radio show in any market that has been that consistent over that length of time."
Local media buyers said an ad during "The Bob & Tom Show" costs at least double
what the station charges otherwise. A 30-second spot on the morning show costs about $450.
The most recent
quarterly radio ratings released by New York-based Arbitron Inc. show this market's top two classic rock stations, San
Antonio-based Clear Channel Radio's WFBQ and Atlanta-based Cumulus Media's WJJK-FM 104.5, have similar audience
numbers outside the morning slot dominated by "The Bob & Tom Show."
But the draw of the show, which
airs 6-10:20 a.m. locally, is powerful enough to give the station a ratings spike that begins an hour before the show and
doesn't subside until 11 a.m.
And the stations' financial fortunes are dramatically different. In 2008,
WFBQ earned $12.2 million in ad revenue, which is tops in this market, according to BIA Financial Network, a Virginia-based
financial and strategic consultancy for the radio and television industries. WJJK earned $3.6 million during the same period,
according to BIA.
WFMS-FM 95.5, the market's country behemoth, earns almost as much annual revenue as WFBQ.
But WFMS' best time slots bring in only about two-thirds of the audience Bob and Tom draw. WFMS instead relies on steady
ratings throughout the day.
"Look at the numbers, and if you consider the amount of advertising Bob and Tom
bring in not only for their show, but the amount that bleeds over into other shows, you can see they're bringing in
a lot of cash," said Tom Taylor, executive news editor of Radio-Info.com and a longtime radio industry expert.
The annual revenue spread between WFBQ and its nearest rival in the same music format has often stretched to $10 million
in recent years.
"You could look at that and derive their value," Taylor said.
Griswold
said he doesn't track station ratings or revenue, opting instead to focus on the 12-hour days it takes to keep the show
rolling.
"The key for us is keeping it fresh," he said. "And connecting with people in a humorous
way about commonalities we all have and can relate to."
Ratings oddity
Radio
experts said the ratings trend at WFBQ is unique.
"It's absolutely unusual for a single show to be
that dominant and out of line in a positive way with the station's other shows," said Charlie Morgan, market manager
for Emmis Communication Corp.'s local stations.
"The Bob & Tom Show" earned an 11.8 share
this summer, meaning almost 12 percent of everyone 12 years old and older listening to the radio in the morning tuned into
WFBQ. The next-best stations during those hours in this market were WTLC-FM106.7, which had an 8.3 share, and WFMS with a
7.4 share. WJJK had a 3.7 share.
"For every 100 listeners in this market, they have 3-1/2 more radios tuned
to their station than anyone else during their time slot," said Scott Uecker, general manager of WICR-FM 88.7 and communications
instructor at the University of Indianapolis. "That's an enormous discrepancy, and with more people listening
to radio during the morning than at any other time, it's almost impossible for their competitors to catch up in ad sales
revenue during the rest of the day."
Bob and Tom's popularity spreads beyond central Indiana. In 1995,
"The Bob & Tom Show" went into syndication and is now aired in more than 150 markets by Premiere Radio Networks.
According to Arbitron's most recent ratings, the show is one of the top-three-rated shows during its time slot in 85
percent of the markets it is in.
Before the economy tanked, WFBQ made more than $16 million in annual revenue,
according to BIA.
WFBQ was the first station in this market to earn $1 million in a single month, said Chris Wheat,
who joined the station in 1985 and was the station's market manager for much of the Bob and Tom era before leaving in
2006.
Indecent exposure
Even a brief advertisers' boycott in 1986 for indecent
material didn't slow the show, which at the time attracted half of all men ages 18 to 34 listening in that time slot.
"For every advertiser that wanted out, two wanted in," said Wheat, now the market manager of Cumulus'
local cluster, which includes WJJK and WFMS. "It was easy to look at the bottom line and defend them."
Wheat credits two things for putting the show over the top, beyond the duo's talents.
First, WFBQ went
more mainstream when it signed a deal to broadcast Indianapolis Colts games shortly after the team landed here in 1984.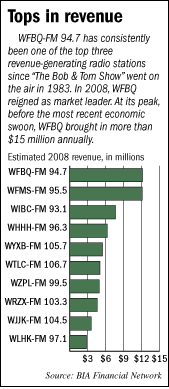 "That really changed the perception of the station, and brought in more listeners," Wheat said.
Second, Bob and Tom learned the value of community outreach. The two, Wheat said, wanted desperately to get involved
in charity work, but several not-for-profits shied away from them.
"In this market,
they were seen as shock jocks," Wheat said. "Then Gleaners Food Bank became the first charity
that would accept money from the sale of 'Bob & Tom' records."
Indiana's
Children's Wish Fund followed suit and became the show's second big charity beneficiary.
"Bob and Tom did charity outreach big, and they spread that initiative through the entire
station," Wheat said. "It helped Q95 get over the 'black T-shirt, motorcycle-rider
image.'"
Clear Channel's local market manager, Rick Green, credits the duo's community
outreach and their ability to connect with people for their enduring success.
"They have a unique way of
making listeners feel like they are just sitting around a table talking with them," Green said.
Graying
demographics
The industry has changed, and so has the show's audience.
Most "Bob
& Tom" followers now fall into the 35-to-54-year-old category. And there are as many listeners 55 to 64 as there
are 25 to 34. The show doesn't attract many listeners younger than 25 these days, but EchoPoint's Doron said the
show's demographics are still plenty attractive.
"When you're looking at demographics, you have
to realize the 50- and 60-year-old today isn't like the 50- and 60-year-old of 15 years ago," Doron said. "All
the research shows us people in these age ranges continue to be active and engaged and they have a higher level of disposable
income than younger audiences."
Myriad market and industry changes make the duo's run more incredible,
said University of Indianapolis' Uecker.
"Considering the fractionalization of the market, the draw
of things like satellite radio and the iPod, not to mention cable TV and the many other entertainment options that didn't
exist just 10 years ago, their enduring following is nothing short of phenomenal," Uecker said.
So powerful
is their following, he said, it transcends music format. He pointed out that Arbitron research shows a fair amount of listeners
to the station he manages—a classical and jazz music station—listen to Bob and Tom in the morning.
"There
are fewer than 10 shows nationally," Emmis' Morgan said, "that can draw the kind of audience they do and
show the kind of margin to their nearest competitors that they do."•
Please enable JavaScript to view this content.