I've driven by countless strip-mall eateries without giving them a second glance, but there always has been something
about Carmel's Mangia! (11594 Westfield Blvd., 581-1910) that has drawn my attention. Maybe it's the exclamation
point.
Whatever the draw, I was happy to have an excuse to give it a shot, jumping suburbs with the hubby for
dinner at the Italian restaurant on a recent Saturday.
Call it a strip-mall bias, but I never even considered making reservations. Luckily, we were greeted
warmly and seated immediately, anyway (and left with owner Lee Tyler's business card in hand so
we could call ahead the next time).
The warm, inviting atmosphere was a pleasant surprise. The large dining area is divided into two rooms
that share a see-through fireplace, creating an intimate vibe that's only enhanced by the dark
wood and white tablecloths. And yet Mangia! maintains a casual Mediterranean feel. The food was pretty
darn good, too.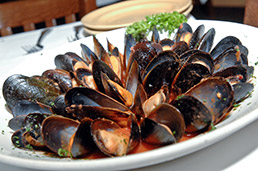 Cozze alla Marinara proved a great way to get a Mangia! meal started. (IBJ Photo/Karly Tearney)
We started on a high note, with the Cozze alla Marinara (garlicky mussels served in a tomato broth, for
us English-speakers), a relative value at $9. The bowl practically overflowed with sautéed mussels,
quality mollusks that went well with the spicy marinara. Our only complaint: We had to ask our server for some bread to sop
up the flavorful sauce. But she readily offered up another basket of fresh-baked heaven after we inhaled the first one.
For entrees, we selected one from Column A and one from Column B—in this case pasta and Secondi,
hearty meat dishes served with potatoes and veggies.
The Fettucine Monterosso ($16) proved a tasty combination of fettuccine noodles and grilled chicken tossed
in a subtle pesto cream sauce and topped with pine nuts. The nuts highlighted the pesto flavor, which was understated
enough to not overwhelm.
The Rosticciana ($20), a roasted pork loin stuffed with pancetta and mushrooms and covered in a rosemary
demiglace (that's sauce for us Hoosiers), was well-cooked, keeping its tenderness, and the stuffing downright
delightful.
We had an awkward moment stumbling over the Italian dish names—when in doubt, point—but were
assisted by the genuinely friendly server and the everyday involvement of a local owner who clearly values his customers.
Tyler introduced himself as we lingered by a wall of photos on our way out, studying the snapshots of happy diners.
None appeared to be professional athletes or other local stars. Were they all celebrating a special occasion, perhaps? Not
exactly.
They're Tyler's regulars—the reservation-making repeat customers who come for birthday
dinners and Wednesday dinners, who bring out-of-town visitors and business prospects, who have helped the independent eatery
survive for 12 years and counting—the ones who gave Mangia! the exclamation point.•
—Andrea Muirragui Davis
__________
Third in our month-long series of reviews of eateries with exclamation points in their names.


Please enable JavaScript to view this content.