Some of the earliest clues things were getting ugly—really ugly—were the television images of traffic parked
on interstates 465 and 69.
Monitors at the state's Traffic Management Center seven miles south of the congested interchange
also flickered with the sight of cars on eastbound I-465 turning around and going the wrong direction to get off
the highway.
The Oct. 22 crash and explosion of a propane truck under an I-465 bridge had thrust the state's
fledgling "intelligent traffic system" into its biggest test to date.
"I've worked at INDOT for 23 years and I'd never seen anything like this," recalled
Steven Wuertz, who coordinates traffic management centers at the Indiana Department of Transportation.
"Pretty quickly I could tell this was a large incident."
For the next five days, Wuertz and other INDOT managers used their growing inventory of electronic gadgetry to monitor
and redirect vehicles on metro-area interstates and surface streets.
Sitting at keyboards, they flashed messages to motorists via huge electronic signboards installed over
interstates in the past few years. They could see where traffic was backing up at detour points and remotely
change traffic light patterns to ease ebb and flow on such arteries as U.S. 31.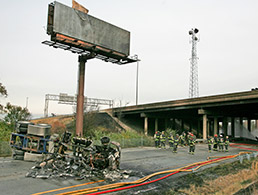 Traffic managers used electronic messages to direct motorists away from the crash scene at interstates 69 and 465.
The fire singed a nearby billboard. (Associated Press photo)
INDOT officials hope the explosion, which resulted in closing parts of I-69, I-465 and I-865 to the
west, gave motorists a newfound appreciation for the technology.
Transportation officials have been keen to communicate along local interstates because the system handles so much traffic—35
percent to 55 percent of vehicle miles traveled.
As recently as 10 years ago, one way to get the message out would have been to patch together aluminum
panels to make a big sign, anchored by sandbags. That could take days.
However, within the past decade, the state has gladly accepted tens of millions of dollars in federal grants for intelligent
traffic system infrastructure. The technology includes cameras, electronic message displays, "side-firing microwave
radar detectors" that measure average speed of vehicles, and a Web site that boils down that data to show traffic conditions.
Motorists' most common encounter with the system is with the 30 electronic message boards—"dynamic
messaging signs"—straddling the lanes.
They've not always been welcome nor, one could argue, useful. When the LEDs flash an alert, some
motorists jam on the brakes and squint at the message—a recipe for rear-end collisions.
And the location of the incident ahead, sometimes on a connecting interstate, is listed by mile marker.
Who has time to pull out an official state road map while hurtling down the freeway?
Still, Wuertz argues the system improved traffic flow when the truck exploded.
"Without these dynamic messaging signs that we used, the only way people could have heard was on
the radio. And even then, they'd have had to catch a traffic report," he said.
Or be listening to one of INDOT's handful of low-power radio stations.
An official post-mortem on how INDOT handled the re-routing challenge is yet to be written. But Darcy
Bullock, a professor of civil engineering and associate director of Purdue University's transportation
research program, said from what he's seen so far, "it was a real success story."
World War II tricks
To design the system, transportation planners reached back to a concept of "incident command,"
an approach perfected by the British during World War II when Germans bombed their cities. Roughly, it's
putting personnel, procedures, policies and equipment into a common command structure.
In Indianapolis' case, the Traffic Management Center and an Indiana State Police post were located
at a new center at 8620 E. 21st St.
Indeed, Wuertz said it was a "huge benefit" for highway personnel to be in the same room
with state police when motorists began calling in the earliest reports of the explosion.
Technology to see what was going on also was key.
Much of the information the agencies share originates from about 70 cameras peering down on interstates.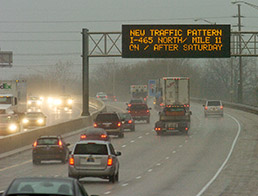 Signboards like the one above quickly alerted drivers to avoid the crash site. (IBJ Photo/Robin
Jerstad)
One of INDOT's key eyes in the sky was knocked out the morning 73-year-old Ronald Tobias drove
his AmeriGas semitrailer too fast on a ramp from southbound I-69 to southbound I-465. The tanker flipped
and took out a support column for the busy I-465 ridge overhead.
Tobias survived, but the tank came unhooked from the tractor and exploded beneath the bridge. The fireball
was so large it bar-b-cued INDOT's nearby camera tower, knocking out a key view of the scene. A
new camera was reeled up to its perch a couple of hours later.
But no such luck for the bridge. Days would pass before the blackened support column was tested and repaired.
By now, I-465 was a parking lot in both directions, for miles.
Vehicles were dumped onto Allisonville Road and U.S. 31, which later became a detour to reach I-69 from
points west.
Using other cameras along the interstate to gauge traffic flow, officials remotely or with a person standing
at a traffic signal cabinet along the road altered signal timing to move lumps of traffic off the interstate
more quickly. They also managed seven signals on U.S. 31.
The state also worked with the city's Department of Public Works to get permission to adjust
lights on surface streets near the interstates, such as at Binford Boulevard and East 71st Street.
"That's something we never could have done without" the intelligent traffic system,
Wuertz said.
Talking to Toyotas
Once immediate traffic jams were addressed, Wuertz and his team turned to another problem—reducing
the number of vehicles driving toward the explosion site. That's where the dynamic messaging signs
came in.
Wuertz focused most on pass-through traffic from southbound I-65 to eastbound I-70, and from southbound
I-65 to eastbound I-74—traffic that often connects via I-465.
When I-65 traffic bottlenecked downtown, Wuertz flashed new messages on the signboards to steer motorists down I-465
on the west side, then east on I-70.
But that became a problem at times, too, because INDOT is rebuilding I-465 on the west side.
"We actually changed the message as traffic conditions changed … . I kept an eye on which
was at its worst," Wuertz said.
Wuertz is one of just six people statewide permitted to write what one might call "custom"
messages on the electronic signboards. Most of the messages motorists see are actually written by a software
program that takes inputs by staff at the traffic management center, who answer a series of questions
posed by the software.
As the traffic planners put up custom messages on the message boards, crews scrambled to bring online
unfinished boards.
A few days later, as INDOT reopened such routes as northbound I-465 on the east side, the messages were
changed again. Wuertz flashed "minimal delays" on the message boards to lure drivers back
onto the stretch.
Still other information was available on INDOT's "Traffic Wise" Web site, www.trafficwise.in.gov,
which shows a map of local interstates. Using data from the radars along the interstates, each route
is color-coded to show approximate vehicle speeds.
Moving a mouse over a camera symbol shows still-frame images of traffic flow (or lack of flow). TrafficWise
can be a handy tool although it's virtually unknown to the public. Wuertz said the agency hasn't
promoted it for fear of taking a drubbing over spending the money.
Usage nevertheless spiked during the five-day traffic event. Visits the day of the explosion totaled
3,426, versus 742 on the same day a week earlier.
Those preparing to leave work for the evening commute could clearly see parts of I-465 were closed and
what major routes were open. Clicking on a narrative tab provided additional details.
More gadgets ahead
Meanwhile, the intelligent traffic system is being expanded.
A new round of federal grants will buy more cameras for interstates northwest of the city, including
I-65 in Boone County.
INDOT is also trying to improve links within its growing army of cameras by laying
fiber-optic cable next to interstates to replace microwave links that require more maintenance.
And next year the agency plans to install a new kind of electronic display giving estimated
time of arrival to certain destinations, based on radar readings of traffic speed and density. Sixteen of the displays
are expected to be installed next year, Wuertz said.
With all the technology added to area highways, Purdue's Bullock said, "at the end of the
day, motorists [ultimately] want safe, efficient transportation."•
Please enable JavaScript to view this content.