Steve Taylor loves to tell his NFL war stories.

There's the time he taunted Baltimore Ravens linebacker Ray Lewis and the many times he's been flattened by an overzealous tackler. Then there was the thrill of his Indianapolis Colts' clinching a trip to the Super Bowl.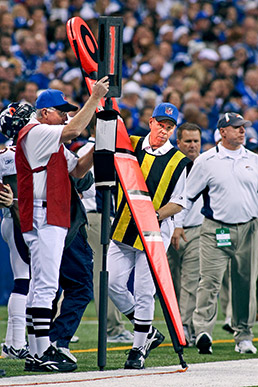 "We're not paid cheerleaders; we are part of the officiating crew," said Steve Taylor, who has spent 25 years with the Indianapolis Colts. (Photo Courtesy Indianapolis Colts)
Taylor loves putting on his uniform and going to work in front of more than 60,000 screaming, cheering fans at Lucas Oil Stadium. But he doesn't wear pads. Or carry a clipboard.

The Indianapolis resident is a proud member of the Colts' chain gang, a seven-member crew that marks each set of downs when National Football League teams take to the field at Lucas Oil Stadium.

"It's incredible," said Taylor, 62. "I have a front-row seat to the best football in the world."

Taylor's job is to mark the beginning of each set of downs. Every time a team earns a first down or takes possession of the football, he places the orange-and-black marker at that spot on the sideline. Ten yards downfield, his partner holds the other end of the chain-linked tandem—giving the teams a visible indicator of where the offense needs to get next. Other crew members keep track of where each play begins and ends.

If the referees aren't sure whether a play resulted in a first down, Taylor and his partner trot out to the field to provide an official measurement. Football may be a game of inches, but Taylor knows he isn't likely to end up on Sportscenter.
"It's our job to be invisible," he said. "We're not paid cheerleaders; we are part of the officiating crew."

Dec. 13 was just another day at the office—largely uneventful. The hordes of fans attending the Colts' matchup with the Denver Broncos didn't pay much attention to Taylor, who was tucked away behind his marker on the sidelines.

But when Broncos running back Knowshon Moreno fell just short of a first down in the closing minutes of the first half, Taylor and his measuring partner stretched the chains so officials could make the call.

When he's not wearing his yellow and black vest, Taylor is a calculus teacher and math department chairman at Perry Meridian High School. Weekends are his chance to embrace his inner football fanatic.

He's certainly not doing it for the glory—or the money. Taylor declined to disclose his salary, but chain-crew members made about $50 a game in 2003, according to a USA Today report.

A high school player at the old Sacred Heart High School in Indianapolis, Taylor couldn't pass up the opportunity to watch pro ball up close. He joined the crew in 1984—the same year the former Baltimore Colts made their infamous late-night move from the East Coast, bringing NFL football to Indianapolis.

Taylor already was a high school football referee, so he had an in when the team tapped fellow Indiana High School Athletic Association official Tom Vohlsen to put together a sideline crew for what was then the Hoosier Dome.

It was an incredible opportunity for the Indianapolis native, who spent most of his life without access to professional football.

"Growing up in Indianapolis, we usually only had one channel on television that played one football game a week," he recalled. "Most of what we saw of the NFL was just the pictures in the paper."

Even so, he didn't have to undergo any special training before starting his sideline on the sideline. Taylor just put on his uniform and went to work.

Even after 25 years, he said the excitement hasn't faded. Taylor still loves showing up two hours before game time, suiting up in the crew's locker room, and putting down the orange end-zone pylons before the teams take the field.

He has worked in two stadiums and he has seen Hall of Famers play. He has watched the Colts languish at the bottom of the league and has seen them dominate their opponents.

"You can tolerate even the mediocre or bad years because you're still watching guys like [Hall of Famers] Marcus Allen and Dan Marino," he said.

And there's something else to look forward to—the 2012 Super Bowl at Lucas Oil Stadium.

He didn't follow the Colts to Miami when the team won the world championship in 2007, but the chain crew at the host stadium often gets the call to work the game. Taylor said he's too nervous to ask about it, but the chance to be on the field during the Super Bowl would be a dream come true.

Although Taylor treasures his time on the sidelines, he said he's careful to never let the emotions of the game overwhelm him.

"You start doing that, you can get hurt," he said. "You have to appreciate the opportunity to be there, but you can't get caught up in it."

Still, he has had close calls. As ball carriers and tacklers are often launching themselves toward the markers, members of the chain crew sometimes can find themselves in the line of fire.

"The first thing we do is protect ourselves," Taylor said. "We can always go back [to place our markers] where we started. Safety is the No. 1 priority."

Taylor marks the start of a set of downs with an orange indicator that stays in place even if he and his big orange pole do not. It came in handy at the Broncos game, when he was forced to abandon his marker and retreat a few times. He isn't always so lucky.

Given the speed of the game, he's never been able to identify exactly which players have brought him to the ground. But he vividly remembers an incident a few years ago when he was forced to finish a half with his marker bent at a 45-degree angle after a sideline collision—another war story to tell.

Taylor has collected his share over the years. He fondly recalls some of his favorite players, like former Colts backup quarterback Paul Justin, who Taylor said always made an effort to check in on the sideline crew.

Then there's the not-so-friendly interactions, like his taunting of Ray Lewis, the Ravens' 6-foot-1-inch, 250-pound Pro-Bowl linebacker. Lewis suffered an injury three or four years ago on the sideline where Taylor was working.

"I encouraged him to get up and play like a man," Taylor said, laughing. "I'm still glad he didn't hear me. He could snap me in half."•