Humane Society of Indianapolis leaders expect to end 2009 in the black—or close to it—a major milestone after operating at a deficit for six years.

"We're tracking in the right direction," CEO John Aleshire said in late December.

The Indianapolis humane society runs the largest private shelter for cats and dogs in the region, but it has struggled with high expenses and a lack of support from donors and animal-welfare activists.

The organization rang up more than $3 million in debt before the board decided in 2008 to stop the bleeding. Taking the CEO post in September of that year, Aleshire's main task for 2009 was to work within a balanced budget.
Aleshire doesn't know for sure whether he hit the $2.8 million target because many donors write their checks in late December. Revenue might fall short of projections, he said, but the gap won't be six figures—as it was in the past.

"To go from a $200,000 or $300,000 loss to even doing this, we feel is an extraordinary accomplishment," Aleshire said.

The humane society relies on about 13,000 donors who write small but regular checks. Many of those supporters gave less frequently as the recession took its toll, but Aleshire hopes other fund-raising efforts make up the difference.

The humane society received $300,000 in pledges at its first "Face of Love" breakfast Nov. 19 at the downtown Marriott.

Most of those pledges will be paid over three to five years, but Aleshire said the humane society also netted $50,000 in cash.

HSI needed that end-of-year boost, he said. "The budget was built on a successful breakfast."

One major initiative in 2009—opening a spay-neuter clinic—remains on hold for lack of funding. Aleshire said the clinic, which he hopes to open southeast of downtown near Fountain Square, will require $750,000 to $1 million in startup money.

For 2010, Aleshire is looking to grow small revenue streams and capitalize on successful fund-raising gimmicks.

He noted that simply adding a photo contest to the annual Mutt Strut last spring raised an additional $27,000.

The humane society also hopes to generate cash by offering low-cost vaccines beginning in February, he said. The plan hinges on volunteer veterinarians and vet-tech students from Harrison College.

Aleshire also hopes to boost canine training classes and pet-supply sales.

"We have greatly underestimated the power of retail we have here. People love to buy things," he said.

The humane society's ongoing challenge will be to pay down more than $3 million in debt.

HSI's leaders already witnessed a potential pitfall of that debt burden. In late 2008, they offered their facility at 7929 Michigan Road as collateral to avoid defaulting on a line of credit with National City Bank.

The bank grew nervous because the humane society had borrowed against the value of two charitable funds, the Julia Jean Stokes Trust and the Mary Powell Crume Trust. The humane society is the sole beneficiary of the trusts, which it also controls.

The combined value of the trusts was a comfortable $5.19 million at the end of 2007, but it dropped to $4.2 million by the end of October 2008.

"We never had a technical event of default," board member and attorney Peter Donahoe said. By offering the real estate as collateral, he said, "We ended up giving [the bank] a little more security."

When HSI moved its line of credit and fund management to Old National Bank in October, the real estate wasn't included.

"The new bank did not feel the need to have that protection," Donahoe said.

The humane society has made several changes to the structure and administration of its trust funds since late 2008. Each of the changes was approved by a Marion County probate judge with consent of the Attorney General's Office, which safeguards public charitable trusts.

The larger Crume trust absorbed the Stokes trust in December 2008. The value of the combined trust, as of Nov. 30, is $4.7 million.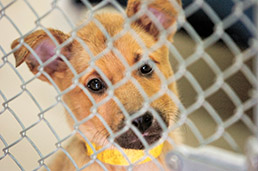 A puppy awaits adoption at the Humane Society of Indianapolis. (IBJ Photo/Robin Jerstad)
The humane society also changed the rules for drawing revenue from the trust. Rather than calculate annual income from each of the trust's investments, the humane society now draws 5 percent of trust assets, Donahoe said.

In the future, the draw will be calculated against a rolling three-year average of the assets, he said.

Merging the trusts left open the question of how much could be used as collateral for borrowing, Donahoe said. HSI had pledged 100 percent of the Stokes fund's assets, but the court limited borrowing against the Crume fund to 65 percent.

In October, the humane society received a court order allowing it to pledge up to 80 percent of assets.

Donahoe said the new threshold is justified because it's an average of the previous borrowing levels.

"Not that we intend to borrow that much," he said. "You want to have a cushion."

Humane Society finances began the march into positive territory in March 2008. Former CEO Martha Boden changed the shelter's policy from open to limited-acceptance, meaning the shelter takes cats and dogs as space becomes available.

That drastically reduced the number of animals HSI kills each year. Handling fewer animals also allowed HSI to cut expenses, mainly by eliminating staff.

The number of cats and dogs going into the shelter dropped from about 9,000 in 2007 to about 5,800 in 2008.

Last year, the shelter took in about 5,560 animals. Nearly 64 percent were adopted. Hundreds more went to rescue groups.

HSI's kill rate is now about 10 percent, down from about 45 percent under the open-acceptance policy, shelter Operations Director Christine Jeschke said.•