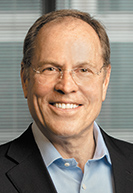 Bob Coy, the president and CEO of 16 Tech Community Corp., plans to retire at the end of April, the organization announced Tuesday.
Coy, 65, has been at 16 Tech since June 2017 and has overseen the first phase of development at the organization's 50-acre near-west-side campus, known as the 16 Tech Innovation District.
Officials at 16 Tech said they have already launched a campaign to find his successor.
"It has been an honor to lead 16 Tech during its startup phase," Coy said in a written statement.
More than $130 million has been invested in buildings and infrastructure in the district since 2018.
The development's first building opened in August 2020 and is home to the Indiana Biosciences Research Institute, the Central Indiana Corporate Partnership and the Indiana University School of Medicine.
The district's innovation hub, the 132,000-square-foot HqO building, opened in March and includes a food hall and artisan marketplace called the AMP, plus a makerspace and flexible office space.
The campus serves as home to more than 50 companies that employ more than 500 people total, including biotech and tech startups, venture studios, restaurants and retail shops, among others.
A 650-car parking garage is set to open in the spring. Other upcoming projects include a bridge spanning Fall Creek, residential development, additional office space and green space.
Before arriving in Indianapolis, Coy held entrepreneurial and economic development leadership positions with public and private institutions over the past three decades in Ohio, Missouri, Delaware and Pennsylvania. He previously was president and CEO of CincyTech, a seed-stage investment organization in Cincinnati that invested in 70 startups.
Prior to joining CincyTech, Coy was senior vice president for entrepreneurial development and economic development at the St. Louis Regional Chamber and Growth Association.
"Bob Coy is a successful, serial entrepreneur when it comes to helping communities across the United States take big steps and do bold things," CICP President and CEO David L. Johnson said in a written statement. "We are fortunate beyond measure that Bob found Indianapolis –and our prospects for developing a unique innovation district—so compelling that he came here and promptly turned a 30-year-old community ambition into a vibrant reality. He has brought out our best and helped us build an exciting path for our future."
Johnson also serves as the chairman of the 16 Tech Community Corp.'s 16-person board of directors.
The board has hired Greensboro, North Carolina-based Jorgenson Consulting to conduct a search for Coy's successor.
According to the job description, 16 Tech is looking for a leader that can help it find the money for numerous unfunded projects planned for the campus in coming years. The campus is planning more than $30 million in capital investments next year and another $33 million or so the following year.
"Post 2022, 16 Tech has various unfunded capital expenditures that will need to be funded, including additional roadways, the central green and various development projects that will need to be funded and which the CEO will lead," the job description says.
By the end of this decade, 16 Tech said, it expects to grow its campus to more than 3 million square feet of development, more than 750 housing units, 15 acres of green space and three miles of trails. The campus will also be home to 3,000 jobs of all skill levels in the tech, life sciences and advanced manufacturing industries, 16 Tech says.
Please enable JavaScript to view this content.