Not even a year has passed since Scale Computing launched its first product, yet CEO Jeff Ready forecasts 2010 revenue with the confidence of a meteorologist giving the three-day outlook.

Ready
"I think there's a good chance we could do north of $10 million. We're certainly on par to do something in that ballpark," said Ready, co-founder of Indianapolis-based Scale.

This is coming from a guy who started out building a supercomputer to forecast the performance of financial stocks, but eventually shelved it.

Yet attempts at forecasting ultimately have paid off for Ready, whose company develops data storage devices for small to medium-size businesses. The devices are based on the advanced parallel file system found in supercomputers.

Hitting $10 million in sales this year would be a huge increase for the young company looking at perhaps $2 million in sales when the books on 2009 are tallied.

Forbes ranked Scale No. 16 among the fastest-growing young companies. The New York Times cited the firm's innovation and ability to adapt after seeing the market prospects sour for a supercomputer for financial markets.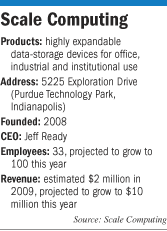 "They are in a technology space that is very hot right now," said Charles King, chief analyst at San Francisco-based Pund-IT Inc.

The demand for cost-effective data storage will only grow with increased digitization of records such as in the health care field, said Don Aquilano, managing partner of Indianapolis-based Blue Chip Venture Co., which took a stake in Scale. "It's a great market to compete in. It's $45 billion and growing."

One significant aspect of Scale is that it brings to Indiana a company involved in not only software but also hardware and logistics, Aquilano said.

That it was started by a group of "serial entrepreneurs" who've formed multiple companies also makes it a significant asset, he added.

If it seems like Scale came out of nowhere, it did, sort of—out of the San Francisco suburb of San Carlos, Calif., pop 27,714, where it was founded. Ready, a Hoosier native and a Rose-Hulman Institute of Technology grad, announced he was moving the company here last year with the help of a $2 million grant from the Indiana 21st Century Research and Technology Fund.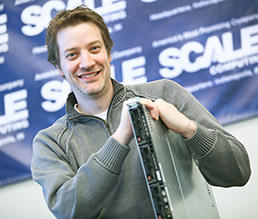 Jeff Ready and two fellow Rose-Hulman grads scrapped development of a supercomputer to predict stock market performance to create an expandable data storage device for business. Scale Computing could hit $10 million in revenues this year. (IBJ Photo/ Perry Reichanadter)
"At this time last year, the only person in Indiana [at Scale] was me," said Ready, 35. Of the company's 33 employees, most are here—at Purdue's technology park, south of Indianapolis International Airport. A handful of engineers stayed back in California.

Scale could easily have 100 employees by year-end, Ready said. That's a number not usually seen with companies until they've raised at least $20 million. Scale has raised a mere $5 million, with about $3 million of that in traditional venture capital.

One reason is that Scale enjoys operating efficiencies in Indiana it wouldn't back at its old location at the northern end of Silicon Valley. It has just under 4,000 square feet at the Purdue technology park. It also uses a third-party manufacturing firm to make its storage devices, so its capital costs are low.

"I've driven over to FedEx at 10:30 at night myself," the CEO said of Scale's entrepreneurial trappings.

Such growth pains are a good problem to have, Ready said. They're growth pains made possible by a motherboard of a failure.

Restless entrepreneurs

Five years ago, Ready and old pals from Rose-Hulman were itching to launch yet another company—the latest in a string of tech businesses since starting their own Internet service provider while in college in the mid-1990s. Ready, Scott Loughmiller and Ehren Maedge met while freshmen in 1992. This time, they would work on software to predict stock performance, using anti-spam technology they developed at Corvigo, a company they started a few years earlier and later sold for $42.5 million.

They'd also need hardware—a really powerful computer to handle 30 gb or 40 gb per day of historical market data they'd have to input daily. What emerged was their own supercomputer, known as "Super Bruce," a monstrosity of 400 processors that generated so much heat it required industrial-size fans to cool.

"It was more of a science project," Ready said.

Maybe at first, but Super Bruce later had the same capability of a supercomputer BMW used for aerodynamic modeling, Ready reckoned. But as Super Bruce grew, it became costly.

"Every time somebody had to buy more parts, someone would have to write a check," he said. In time, "we were looking at millions of dollars on a storage system."

Their crystal ball of a contraption worked and could have made them rich as the centerpiece of their own hedge fund. But the stock market downturn ultimately doomed prospects. Eventually, they realized Super Bruce had other applications. Its computing architecture could be used as the basis of a low-cost storage device.

"Without realizing it, we had started building something that had broader applications in the market," Ready recalled.

Business model reboot

Essentially, what they did was take the cluster-type file system that allows supercomputers to handle massive amounts of data and adapted it for business. The product consists of boxes, or nodes, that can be stacked and added to as a business has more storage needs. They claim the system can cost 75 percent less than conventional storage systems that require expensive equipment upgrades. There's no single controller or "brain," but rather all the nodes contain the same data. There's not a single failure point for something to go wrong.

Moreover, the software uses artificial intelligence that does the work of a cadre of IT administrators serving a supercomputer. Ready figures he's replacing a $200,000-a-year systems administrator.

"One of the most intriguing things to me is the sheer scalability," said King, noting the ease of adding modules.

"This capability plays very effectively in the small-to-medium business space," he said.

Although the computer market itself has seen a slump, "one area that really has not seen a reduction in scope is data storage. They're in a sweet spot," King added.

The small Hoosier firm even got the attention of IBM. Scale is offering its Intelligent Clustered Storage device for IBM's System X servers. The storage array is being distributed by Avnet Technology, which is IBM's largest worldwide distributor.

Eventually, Ready would like to bring manufacturing in-house, as volume increases. He's sour on the idea of outsourcing customer support to India or Pakistan.

"I have a desire to do this company differently than sort of the standing orders of a typical Silicon Valley startup."•